Honda reveals Civic Tourer BTCC entry
Honda has ditched the hatchback bodywork of last year's BTCC entry, opting to compete with the more practical Tourer. Details and pictures here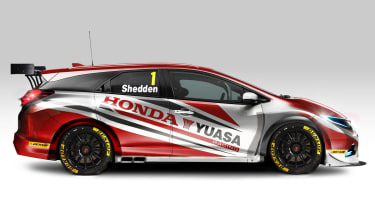 Honda has pulled the covers off next year's BTCC entry, which will be based on the new Civic Tourer. Sparking memories of the 1994 Volvo 850 estate, the last time a team raced with a wagon car in the series, Honda has made the switch to publicise its new Tourer model.
When the 2014 season kicks off in March, the successful BTCC team will take to the track in a new car, along with its existing driver line-up: 2012 champion Gordon Shedden, along side long-term BTCC driver and three-time champion Matt Neal.
Like the 2013 racer, next year's Tourer will be powered by a 2.0-litre turbocharged NGTC engine. Although not related, the engine will produce around the same 300bhp power figure as the upcoming Type-R model.
Despite the fact Honda has made the switch advertise its new Tourer model, there's currently no word on whether Honda will produce a performance-oriented version of the Tourer.
The model's first test begins in January, ahead of its debut at Brands Hatch for the first round of the 2014 BTCC on 29 March.