Honda Insight
All-new hybrid revealed - and it's changed from the coupe original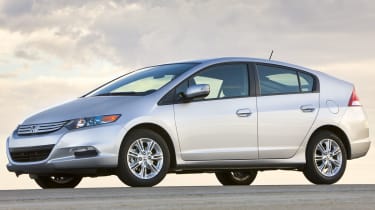 Honda's new Insight has been unveiled. Just the one photo, mind. It uses a 1.4-litre VTEC petrol engine mated to electric motors, and will go on sale for around £15k making it the cheapest hybrid on sale by some margin. It's also far different to the slippery 2-door Insight of several years ago, which lost money for every one sold.
This more conventional family car style is similar to the Toyota Prius in looks, but it isn't a case of copying - wind tunnel work by both Japanese makers confirms this as the most aerodynamic (hence most fuel efficient) shape for a car like this.
Honda is set to unveil the Insight in full at Spring's Geneva motor show, after a Detroit launch was canned due to money worries - which have also led to it pulling out of F1. The hybrid is the latest in a line of Honda's funky alternative fuel cars, including the FC Sport.