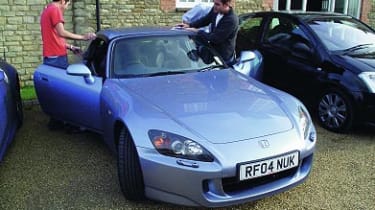 At last I have taken the Honda on track for a bit of a jolly. The rear was quite snappy, judging by chief photographer Morgan's 360deg spin on his first outing on the second corner of Bedford Autodrome's West Circuit, so I decided to take it a little easier.
While the revvy engine, precise gearbox, well-placed pedals and strong brakes could have been made for Takuma Sato, the steering was disappointing, lacking in resistance and feel. This sometimes makes the front and rear seem out of phase with each other as you wind a fraction too much lock on, then a fraction off again around a corner. Meaden, on the other hand, proved that the S2000 could be driven smoothly and held completely broadside at 80mph (nobody likes a show-off). With antics like that it was a bit of a surprise that the Bridgestones are showing few signs of wear, even after 13,000 miles and more than a dozen laps of the West Circuit.
After many early-morning finishes at our repro house in the last few months I have discovered that this is the best time to enjoy the S2000. With the roads free of traffic and the VTEC engine breathing in the cold dense air, the long blast home on some fast A-roads is no hardship. The HID (high intensity discharge) headlights are great and the digital display looks special as the F1-style rev counter lights its way towards the redline. Who needs caffeine anyway?
The ride is now less jarring and the stuttering at 2200rpm disappeared shortly after the 9000-mile service (which cost £177.37) along with the coarseness to the engine note, which has been replaced by a much sweeter-sounding mechanical scream. This can break the monotony of a long motorway journey too, by dropping down to fourth and wringing it out to 9000rpm for a giggle.
How hard can it be to put the hardtop on? Not very, judging by the comments of www.s2Ki.com forum members, some of whom claim to have done it solo. I, on the other hand, was swearing like a trooper, along with new-boy Catchpole and Bovingdon, as we tried to get the f***ing thing to line up properly in the catches for over 45mins. The hood needs to be dropped precisely equally on both sides, otherwise it does not fit. I'm just glad it's a lot easier to remove come the Spring.
Running Costs
| | |
| --- | --- |
| Date acquired | June 2004 |
| Total mileage | 13,535 |
| Costs this month | £0 |
| Mileage this month | 2203 |
| MPG this month | 28.9 |