Hyundai N Performance track day
Forty evo subscribers were invited to Brands Hatch to try Hyundai's new i30 N and i30 Fastback N models.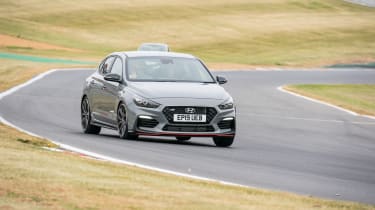 1/18
The Hyundai i30 N is one of the most talked-about performance cars among the evo community. An all-new brand created for enthusiastic drivers around a car engineered by people with a track record of producing great cars, it was eagerly anticipated before launch and is now respected and admired by everyone who has driven it. 
To give more evo readers the opportunity to try this intriguing car, Hyundai asked us to invite 40 of our hot hatch-owning subscribers to Brands Hatch for a trackday. The drivers would have the opportunity to drive their own cars on the legendary Indy circuit before trying the latest i30 N models – the i30 N hatchback and i30 Fastback N. What did the evo readers make of the day, and the i30 N? Why do they love hot hatchbacks and what have they learnt? Watch the video to find out…
Hyundai's Alexander Eichler is head of test and development at the High Performance Vehicle department of Hyundai Motor Europe, and is in charge of vehicle dynamics testing and development for the N range. As well discussing all things hot hatch with the attendees, Eichler also took part in a Q&A session. Hosted by British motorsport commentator Toby Moody, the panel also included Stuart Gallagher, editor of evo, and contributing editor and one of evo's founders John Barker.
Questions included the future of hot hatchbacks, why the i30 N doesn't have an official lap time around the Nürburgring, if there is an even hotter N model on the way and how Hyundai benchmarks the N against its rivals. 
Readers were clearly impressed with the Hyundais on the track, but also with the commitment shown by Eichler to the performance car cause. The company has poured millions into making sure the i30 N and i30 Fastback N are exceptionally well-engineered hot hatchbacks which can handle the needs of everyday life but also be rewarding on a circuit or a great road.
While this formula may be familiar to many manufacturers when building a hot hatch, Hyundai's aim was to create something different to its rivals, explained Eichler: 'Of course we investigated our competitors, but not with the aim to copy any of them, but to find out what factors we like and what we want to avoid. Then we created a car that is unique and gives our customers a reason to buy it. 
'We wanted to develop a car that can be used as an everyday sports car, as well as a car that is completely track capable and a true "corner rascal". When we used technology, we made sure in a way that really makes sense, and is not just a playground for us engineers. With modern electronics systems you can do a lot of effects, but it was important for us that every switchable setting such as steering, suspension, ESC, eLSD, exhaust and powertrain has true meaning and is beneficial for specific situations.'
These settings were a topic of some debate over lunch, with one attendee asking why the i30 N doesn't have a 'Comfort' setting to make the ride more forgiving on public roads. Eichler explained that the N models are not meant to be limousines and should always feel like a sporty car – so there is no 'Comfort', just 'Normal' for use on the road. However, the extra settings allow owners to get an extra edge on the track or tailor the way the car drives to their individual preferences.
This, and the rest of the i30 N, are thoroughly honed at the Nürburgring, which is literally just down the road from a Hyundai technical centre. Eichler explained: 'The Nordschleife lets you detect issues in the suspension set-up in a few minutes and it would have taken days on normal proving grounds to find that out. It is so effective to test there, and this also applies to other systems such as steering, ESC, or eLSD.'
But he won't reveal a lap time for the i30 N: 'Our decision to test there isn't about marketing. We could set a fast lap, but to get the best time we would need to make changes to the car which would make it compromised on the road, with more understeer for example. We would much prefer to use the Nordschleife to hone the cars to be the best that they can be for our customers rather than hit some record.' 
This content was produced with the assistance of Hyundai.