evo Magazine December 2014 - Koenigsegg One:1 tested
The 1341bhp Koenigsegg One:1 driven on the road, Porsche Cayman v Jaguar F-type data test and tech analysis of the new Mercedes AMG GT Coupe
Koenigsegg One:1 tested
Jethro Bovingdon takes to the roads around Koenigsegg's production facility in the most powerful road car evo has ever tested – the one metric horsepower to one kilogram One:1. Christian von Koenigsegg calls it the world's first 'megacar'. Jethro calls it effing fast. Thankfully, its talents run deeper than speed alone.
AMG GT Tech
Mercedes-Benz is taking a direct shot at the Porsche 911 and Jaguar F-type with its latest sports car, the Mercedes-AMG GT. Can Merc compete with Porsche's engineering and the Jag's feel-good factor?
Lexus RC F
Does Lexus's 471bhp, V8-engined rival for the BMW M4 match the German car's thrills on the road, or is the extra quarter of a ton weight penalty it carries a little too much to bear? Jethro Bovingdon decides.
Goodwood Revival 2014
Tiff Needell and Marino Franchitti recount their experiences of everyone's favourite classic racing event. Will Tiff manage to find his missing knob?
F-type S Coupe v Cayman S
Dan Prosser straps timing gear to two of the hottest modern sports coupes to see whether reality matches the claims.
Morgan Speedster
Morgan celebrates its 100th year with a 'screenless Plus 8. Henry Catchpole gets flies in his beard.
evoMAX 200
Step one: find a runway. Step two: gather some of the world's fastest cars on that runway. Step three: see how fast said cars will get from one end to the other.
Audi TT & Ford Mustang
Two coupes more different you'll struggle to find. Catchpole tries the new Audi TT, while David Vivian explores the latest, more sophisticated Ford Mustang.
Rallying RS2000
Catchpole finally gets his pristine white Mk2 Escort dirty. Does he enjoy it? Has his rallying obsession died forever? Do you really need to ask?
New cars driven
Aston Martin V12
Vantage S Roadster
BMW M4 Convertible
Porsche Cayenne Turbo
Volkswagen Golf GTE
Renault Twingo
BBR MX-5 Super 200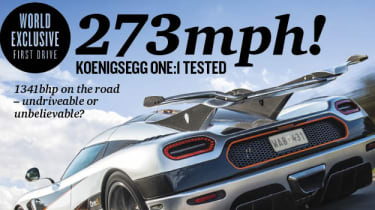 News
Lamborghini previews a hybrid. Yes, really. There's also a new MX-5 on the way and plenty of Brit metal: the new Lagonda, Jaguar's XE and Morgan's SP1.
Columns
Meaden laments the silence of Formula E and rejoices in the roaring Revival. Porter most definitely isn't rejoicing at the new head of Ferrari…
Letters
One reader agrees with Dickie that cyclists and drivers share common interests, the R8 finds another fan and the relevence of the Subaru STI is questioned.
Long-Term tests
New staffer Sam Sheehan's Clio 182 offsets last month's Clio-shaped loss in the Fast Fleet, Jethro's F-type goes back to Jaguar and SSO tries a Mulsanne.
evo Knowledge
We tempt you with Renault's 1990s answer to the Porsche 911, the Ferrari 599 sits under the buying-guide microscope and Henry suggests a Romanian road to explore.
Art of Speed
It's not subtle, but we don't care: the original Sierra Cosworth's whale-tail rear wing is this month's detail of choice.