Lamborghini Murcielago
It's not all fun and games owning a Lamborghini Murcielago - it's serious repair time (and bill) for Simon George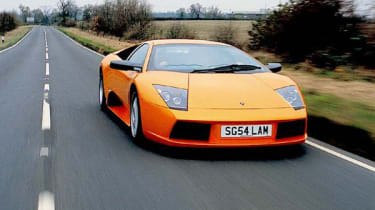 Last month I reported how the Murciélago's V12 needs some very serious money spending on it and that a goodwill claim had gone in to Lamborghini on the basis that an earlier repair, done under warranty, had been ineffective.
Unfortunately the man from Sant'Agata, he said no. However, he did say the factory was prepared to contribute half the cost of the parts. But when you tot up 60 hours of labour at dealer prices of £150 an hour, plus a camshaft costing £1500 after Lamborghini has made its contribution, that still leaves a potential bill of over £10,500, to which you can add the cost of changing items like the timing chains (it would be daft not to while the engine is in bits). That's my annual holiday to Blackpool gone, then…
Then I recalled that a friend had had some work done on his Diablo GT back at the factory in Italy. With far cheaper labour rates at Sant'Agata, this seemed like an avenue worth investigating. Turns out that Automobili Lamborghini does carry out repair and restoration work on customers cars, but usually only in the winter. Fortunately, thanks to the Italian version of evo, SG54 is well known to Automobili Lamborghini's workshop manager, Claudio Tomassini, and he couldn't have been more understanding. The decision was made.
The Virginia Water Motor Company (01344 844949) managed to squeeze the big Lambo onto one of its trucks heading south (cost: a very reasonable £1000) and just three days later the Murciélago arrived at Sant'Agata.I'm now waiting for an email detailing the cost of the repairs. Whatever the verdict, I doubt the car will be ready in time for Le Mans, so it looks like this year I'll be cadging a lift down in my mate's Fiat 500!
Running Costs
| | |
| --- | --- |
| Date acquired | September 2004 |
| Total mileage | 43,601 |
| Costs this month | £1000 (recovery to factory) |
| MPG this month | n/a |