Lamborghini LP640
The LP640's recent run of bad luck has continued this month...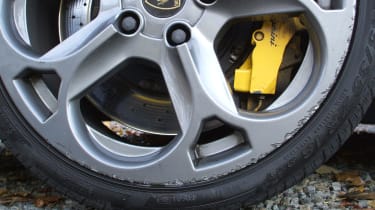 First its beautiful Hercules rims came off worst in a scrap with a kerb, so a visit to a wheel refurbisher is now in order. Then things nearly got even worse. Back in issue 118 I mentioned that I've not been keen on towing ever since an unfortunate incident involving a bed, a trailer and the M62. Well that's nothing compared to what happened this month…
LP07's co-owner recently bought a Range Rover Sport, complete with a tow bar and therefore ideal for hitching up the Lambo on its six-wheeled trailer. And towing the LP640 was exactly what we were doing when, while negotiating our way along a dark, narrow country lane, we heard a bang and the Rangie leaped forward. As I spun around in the passenger seat I caught a glimpse of LP07's rear end disappearing from view as the trailer, now detached from the Range Rover, slid across the road, launched up a bank and dug itself in at a precarious angle.
Thankfully the Lambo was well strapped down, so after a two-hour operation to winch the trailer back onto the tarmac the only casualties were a couple of pairs of soiled underpants! So what had caused the trailer to come adrift? A faulty removable tow bar that was a little too removable. Think it might be safer if I just drive LP07 in future.
Running Costs
| | |
| --- | --- |
| Date acquired | August 2007 |
| Total mileage | 16,610 |
| Costs this month | £160 (oil and filter change) |
| Mileage this month | 663 |
| MPG this month | 11.5 |