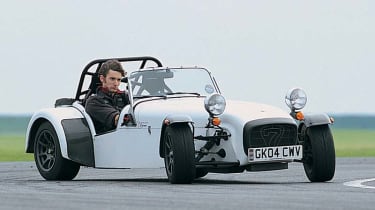 I know I'm preaching to the converted here, but power oversteer is a wonderful thing. I mean truly beautiful. You know that happy feeling of satisfaction and achievement when you get something right? It can be anything: a golf shot, completing the cryptic crossword, that tricky throw for the wastepaper bin on the other side of the office - they all produce that same flush of wellbeing, that surge of confidence that allows you to walk a little taller for a few hours.
And the very first time you get it right it feels even better. In those moments you feel like you've graduated, added another facet to your character, and opened up a whole new world of possibility.
Well, right now I feel about ten storeys high and won't stop smiling until well into next year because I've just driven our Caterham and held it sideways. Sometimes for whole seconds at a time.
Our Superlight R300 is the perfect car for learning and I've been hankering after a go in it for ages. This month road test ed Jethro finally relented, took the brave pills and offered to accompany me around that greatest of playgrounds, Bedford Autodrome, for the day.
After a couple of laps in the passenger seat watching a first class display of Bovingdon opposite lock, it was my go. First hurdle was wriggling my six-foot four-and-a-half inch frame into the driver's seat. Wedged under the dashboard, my knees are a bit close to my hands, which ensures some knuckle-kneecap interfacing, and a considerably different technique for heeling and toeing has to be devised. But where there's a will...
Surprisingly quickly I find I can hold the natural slides through the quicker corners, as you generally need no more than a quarter-turn of lock, which is easily administered. However, the hairpins and second-gear corners with their bigger angles prove somewhat harder and a series of frustrating pirouettes ensues, so it's back into the pits for some more sage words from Jethro. It turns out that I'm a) going into the corners a bit quick and b) waiting too long to get on the power, both common faults apparently. Out we go again.
Gradually, as the laps continue something starts to emerge. I get fleeting glimpses of it at first, like looking through curtains that don't quite meet in the middle. But then gradually I start to nail certain corners. And then, on one particular corner that I'd started to look forward to each lap, I get it. Throw the car in at just the right speed, stamp on the throttle, wheel to the stops, and feather to taste. And there I am, floating along holding a full-blown power oversteer slide all of my own doing. The sun's even shining.
Of course doing it once isn't enough, so a lot more time is then spent trying and quite frequently failing to repeat the feat. By the end of the day, however, I feel ecstatic. You might not see me whipping ass at drift competitions just yet, but there are certainly a couple of corners at Bedford that I'll take with a little more panache from now on.
Running Costs
| | |
| --- | --- |
| Date acquired | July 2004 |
| Total mileage | 5746 |
| Costs this month | £0 |
| Mileage this month | 1057 |
| MPG this month | 22 |