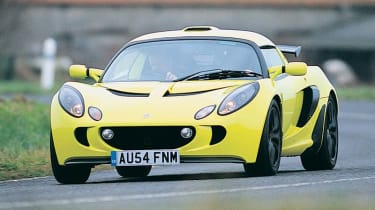 Snow stopped play for most of March, with a triple whammy of Arctic weather at home, a week's skiing in Switzerland and, finally and most frustratingly, a white-out at the Nürburgring leading to the cancellation of (posh trackday club) RMA's eagerly anticipated two-day event at the Nordschleife.
Not going to the 'Ring was a big disappointment, for it would have been my first foray on track in the Exige, not to mention the first genuinely long on-road haul. It was also the perfect excuse to get the Öhlins fully adjustable suspension fitted in preparation, but as Hethel was doing a good impression of Helsinki during the cold snap it just wasn't possible. This should be rectified in time for next month's update.
The Exige clearly took offence at this inactivity, for after a few weeks of languishing in the sub-zero confines of my garage the battery had lost most of its juice, forcing me to enlist the help of Andy Morgan to get it bump started.
After extolling the virtues of the Yokohama AO48s in my last report, this month has taught me that perhaps I should qualify my earlier statement by saying you need plenty of wheeltime to gain such confidence. The few times I managed to drive the Exige this month were all in cold, damp conditions, and despite knowing that the tyres work well, it took at least 10 miles to really feel confident, especially when judging turn-in speed.
The trick is feeling beyond the initial cornering phase, which always has plenty of bite, and working with the gentlest whiff of understeer that gradually builds as a warning once the nose is turned. You very rarely get to this point in the dry, but it's a stance you feel the Exige regularly settle into in the wet. Perhaps that's why it feels a bit unnerving. But once you understand that far from being an end to your fun it's actually the beginning of another workable zone, you regain the confidence to nudge within this elastic limit, relying on the detailed steering feel, and the Lotus's admirable poise, even when backing-off mid-corner, to maintain the committed driving style it so enjoys.
Running Costs
| | |
| --- | --- |
| Date acquired | October 2004 |
| Total mileage | 2760 |
| Costs this month | £0 |
| Mileage this month | 258 |
| MPG this month | 28.0 |