Watch – 1996 McLaren F1 GTR on track
Le Mans legend let loose at Mid-Ohio circuit
In the run up to Le Mans, Team Bigazzi's 1996 McLaren F1 GTR has been back on track in the US. Driven by Bill Auberlen, two-time 24 Hours of Daytona winner, the 600bhp V12 once again reminds us why it's one of the all time great engines, as the GTR laps the fast-flowing Mid-Ohio circuit.
The car, which competed in the GT1 class of 1996, features a race-prepared version of the road car's BMW 6-litre V12, but due to race-restrictors, produces 600bhp at 7500rpm, 27bhp less than the road car. It weighs just 1050kg however – a saving of 87kg – resulting in 580bhp/ton, 20bhp up on the road car.
Though Mid-Ohio lacks straights long enough to put it to the test, the McLaren racer is claimed to be capable of 231mph. When it raced along Le Mans' chicaned Mulsanne Straight in the 90s, it topped out at 205mph.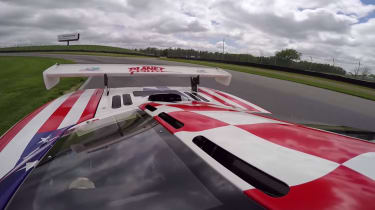 The ex-Nelson Piquet, Johnny Cecetto and Danny Sullivan car finished eighth overall and sixth in the GT1 class at the 1996 24 Hour race, as one of six GTRs charged with taking the race's overall win. Though this particular car never won the race, the McLaren F1 GTR model is hailed as a legend of Le Mans thanks to winning on its debut in 1995.
In this latest film, we ride on board with Auberlen as he works the car's six-speed manual gearbox and unassisted steering around Mid-Ohio's 2.4 miles. Combined with the tone of straight-cut gears and a high-revving naturally aspirated V12, it heavily contrasts Le Mans 2015's hybrid front-runners, and perfectly illustrates the raw and physical challenge GT1 racing once provided.