Mercedes CLS 350 CGI
Our Mercedes gets a does of reality as it mixes it in the suburban jungle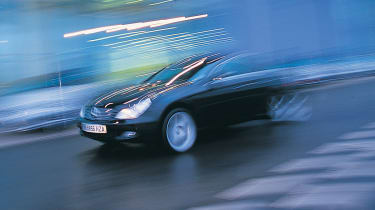 Can't help feeling that what our CLS needs – and, until this month, has somehow managed to avoid – is a down 'n' dirty, warts 'n' all, backyard grapple with real life. Enough of the too-cool-for-school posing, the all-pervading Merc In Black ...er, blackness, the teasing door panel tizzes and the esoteric wheel vibrations (banished at a stroke by a new set of AMG 19-inchers and Michelin Pilot Sports, though more on this in a minute). This month the Merc has glugged its first litre of oil, received its first car park scrape, been decorated with roughly 200 tiny specks of cream-coloured paint borne on the wind from the brush of a man doing up his house about 20 yards down the road and made a dozen trips to the local council dump stuffed to the gills with garden prunings and assorted detritus. As Laurence said to Keanu, welcome to the real world.
The friendly 'put some oil in when you next stop for petrol' dashboard message at just under 8750 miles came as a mild surprise – I don't know, you just expect these cutting-edge engines to have miniscule consumption – but the amount was modest and the dipstick level hasn't budged since. Much more of a mood bomb was the foot-long streak of red paint (a ghastly orangey red at that) deposited on the Merc's rear bumper by a careless and obviously unconcerned parker outside Sainsbury's in Maidstone. Good stuff T-Cut. Five minutes expenditure of elbow grease and it all looked as good as new. A further testament to the quality of the paintwork will be due when I've finally removed the last of the cream paint specks. A work in progress, each tiny dot is being forced to relinquish its rash-like presence on the bodywork with a spray bottle of Tesco bug remover and a bag of assorted rags. Some are tougher than others but the good news is that the paint finish beneath is unblemished.
The boot and interior have brushed up impressively, too, despite seeing more plastic bag-rupturing twigs and branches than the hungry caterpillar. It's the sort of thing that inspires confidence in a car.
If you think you've heard the last of the vibration/bent wheel mystery, though, you haven't. An E-class-owning reader who lives in my area has phoned in to report the bad vibes he experienced on the same roads when he had AMG alloys fitted to his car.
Running Costs
| | |
| --- | --- |
| Date acquired | December 2006 |
| Total mileage | 9735 |
| Costs this month | £12.50 (oil) |
| Mileage this month | 995 |
| MPG this month | 28.1 |