Should a conventional four-door saloon or five-door estate body not suit your fast Mercedes-AMG needs, the Affalterbach engineers have this for you to try: its new CLS53 4Matic+. As the name suggests, it's the company's third generation of its four-door saloon-coupe, of which 375,000 of the previous generations have been sold since its 2004 introduction.
Available with a choice of two six-cylinder diesel and two petrol engines (a 2-litre four-cylinder diesel is also coming), it's the range-topping AMG motor that interests us here for a couple of reasons. For one, the 3-litre in-line turbocharged six replaces the twin-turbocharged V8 of old, and secondly, it's replaced two of those cylinders with a 22bhp/183lb ft electric motor.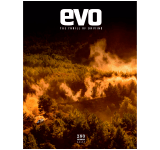 Subscribe to evo magazine
Subscribe today to have every issue of evo delivered straight to you. You'll SAVE 39% on the shop price, and get evo for its original cover price for a whole year!
> Click here for our 2018 Geneva motor show review 
Those of you holding out for a new CLS63 or 63S will be holding on for some time, because currently Mercedes has no plans to fit the new car with the 4-litre 'hot-vee' twin-turbo V8. It also doesn't have any plans to offer the new CLS as a Shooting Brake, either, because the design of the new E-class estate covers this option, according to a spokesman.
I don't know about you, but I think this third-gen CLS has lost some of that distinctive style of the original cars, its face and rear-end treatment more generic Mercedes than standout CLS. From the rear there's more C-class in it than I was expecting. Inside, however, it's a delight as it mixes E-class  and S-class tech and design to produce Mercedes' finest interior – one that matches Audi for quality and knocks it for six in terms of design flair. This is also the first 'five-seat' CLS, with room for three in the rear. Although not three adults, or three large teenagers. Or three people who don't like touching knees with others.
Technical highlights
AMG Ride Control + air suspension is standard on the CLS53 and is paired with continuously adjustable damping. The front axle is uprated over regular CLS models with its own special steering knuckles and load-bearing joints, with every other component optimised for rigidity. There's also more negative camber on both front and rear axles – multi-link at the rear – and the whole chassis, including the three-chamber air suspension that has been set up to be as dynamic as possible.
Discs measuring 370mm sit behind 19-inch wheels at the front along with four-piston callipers, with rotors 10mm smaller in diameter fitted at the rear with a single-piston calliper.
Away from the grubby bits, the new CLS53 features a number of the safety and driver assistance systems that were first introduced on the S-class, with packages such as Premium Plus (keyless go, comfort package, memory package, Burmester radio) and Driving Assistance Plus, all available at extra cost.
Engine, transmission and 0-62mph time
Continuing with its reintroduction of in-line six-cylinder engines, the new CLS53 features both a conventional exhaust gas-driven turbocharger as well as an electric compressor. The latter is powered by Mercedes' EQ Boost starter-alternator (this also provides the energy for the car's 48V electrical system) and it also powers the electric motor installed between the engine and the nine-speed automatic gearbox.
The 22bhp and 183lb ft produced by the electric motor adds to the petrol engine's 429bhp and 383lb ft during short bursts when the car's ECU thinks you need it. This still leaves the new CLS AMG over 170bhp and nearly 60lb ft short of the V8 it replaces, but it is considerably cleaner and more efficient as a result. 
Mercedes' latest 9G AMG Speedshift transmission is fitted along with its latest 4Matic+ all-wheel-drive system as per the E63, but without the E63S's drift mode option. AMG Dynamic Select is also present, offering four pre-determined modes, along with an individual mode that allows you to select your chosen throttle response, engine characteristics, gear shift speeds, suspension setting and steering.
In terms of performance, the new CLS will reach 62mph from zero in 4.4 seconds and is electronically limited to 155mph, or 167mph if you opt for the AMG driver's package.
What's it like to drive?
Imagine a sleeker, more premium feeling E63 and you won't be far off the CLS53. The engine is an intriguing one, as it improves on the shortfalls of the E43's turbocharged V6 engine in that not only is it far more refined, but its power and torque delivery is much better suited to this size of car. In Eco or Comfort mode the engine note is barely noticeable, and only when you open the throttle does it take on a harsher, more excited tone. Switch to Sport mode and the aggression is upped and the responses are pure AMG, something the E43 often struggles to achieve.
The more refined nature of the CLS means the performance of the electric motor doesn't arrive in an aggressive burst, rather it subtly and confidently fills in any lag from the exhaust-driven turbo when that's spooling up from low revs in a high gear. It also makes for instant responses when you ask the gearbox to kick down and the engine to get on with it.
However, to experience the very best performance from Mercedes' new engine, it's best to leave the engine mapping in Sport. Not only does it hold on to a lower gear for longer, it's also not in such a hurry to reach top gear. It means everything is primed and ready for the off whenever you are. With peak torque arriving at less than 2000rpm the shove is pretty relentless, and you never feel it's going to end. It's not quite as thumping as the 63's turbo V8's torque feed, but this new 53 engine feels closer to these than it does to the 43's V6. In lower gears it enjoys being revved, and as the ratios get higher its performance becomes both more sophisticated and stronger as it reaches its peak.
Feeling a more precise instrument than an E63, the CLS53's ride, even on winter tyres, is suppler and better controlled by its air suspension than that of an E-class. It also feels more C-class in size when you're positioning it on the road. The speed-sensitive steering lacks old-school feel but is very precise, and despite the 1905kg kerb weight the CLS53 always feels agile and on its toes, rather than bloated and flat-footed. 
Without the grunt of the V8 there's not as much on offer in terms of thrills from the chassis when you start to push, the 4Matic drivetrain proportioning the engine's torque to the axle and wheel that can deal with it most efficiently. The stability and grip it musters in quicker, sweeping corners is especially impressive, though, making for a confidence-inspiring cross-country machine.  
There's no denying that a CLS63 would be a hugely desirable AMG, mixing the CLS's interior quality and design flair, and its unique external looks, with that stonking powertrain would make for an irresistible package. But that's not to be, and the new CLS53 is still a hugely desirable, neatly packaged, well-honed AMG. Yet, while the CLS's remit is to be a more refined offering than an E-class, you come away wishing AMG had uncorked more effervesces from it and let its engine work the chassis harder, because beneath those sleeker lines are some talented underpinnings. Perhaps a CLS53S could be the answer.
Price and rivals
With deliveries not due to start until later this autumn, Mercedes has yet to set a price, but expect it to start around £65,000. As for rivals, the CLS has always been pretty unique, with Audi's new A7 in a class above, along with Porsche's Panamera. And with Jaguar offering no performance derivative of its coupe-like XF, Mercedes still enjoys sitting in a niche all on its own.