Mitsubishi Evo MR 340
I've just photocopied my points-free licence, framed it and hung it next to my desk. Its days are surely numbered. evo's new Mitsubishi Evo VIII MR FQ-340 has arrived in a sinister shade of gunmetal grey mica and it's all mine for the next six months. What a fab name, what a ridiculous car: brilliant, rabid, manic and truly, deeply fast. Forget the '340' tag, it's better than that: 345bhp and 320lb ft to be precise. It feels every bit as powerful as the spec sheet claims, too, and as an ex-press demo car it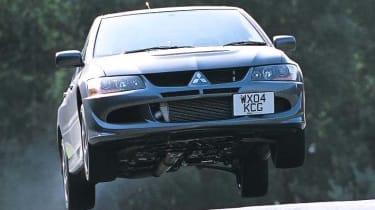 I've just photocopied my points-free licence, framed it and hung it next to my desk. Its days are surely numbered. evo's new Mitsubishi Evo VIII MR FQ-340 has arrived in a sinister shade of gunmetal grey mica and it's all mine for the next six months. What a fab name, what a ridiculous car: brilliant, rabid, manic and truly, deeply fast. Forget the '340' tag, it's better than that: 345bhp and 320lb ft to be precise. It feels every bit as powerful as the spec sheet claims, too, and as an ex-press demo car it was nicely run in with 4439 miles showing when it arrived at Evo Towers.
We knew we had to have an MR after our first drive back in issue 069. We'd expected it to be fast and razor-sharp but the detail changes over the previous FQ-330 (which looked fairly minor in the press pack) rather took us by surprise. A lighter aluminium roof and side impact bars save 7.5kg and help lower the centre of gravity, while Team Dynamics heat-treated alloys reduce unsprung weight by 3.2kg, though such minor changes seemed unlikely to have much of a palpable effect. Even mention of the new Bilstein dampers and improvements to the Super Active Yaw Control and Active Centre Diff the MR didn't really suggest the MR's clear improvements over the already superb Evo VIII.
It takes only a few miles to sense just what a thorough job Mitsubishi and Bilstein have done with the MR, though, and within a few days you can really appreciate the MR's new-found depth of character. It's still absorbing, challenging and just a bit scary when you want to wring it out, but at the same time it's calmer, more controlled and you feel even more at the centre of things.
And even if Evo drivers don't care for such things, the much-improved ride quality is a massive boon on the slog to work. It's this tight but slick damping and the engine's incredible tractability that make the MR seem more grown up, more complete in those situations when you can't go hunting for the limiter and hapless M3 drivers. At £32,999 it needs to be more than just a mental rally-rep and for the first time it seems special enough to challenge cars like the M3 head-on.
The deep gunmetal paint and dark alloys reaffirm the MR's serious intent. Understated may be too strong a word for a car with a huge carbonfibre rear wing but its dark hue is infinitely cooler than red or yellow. Flashes of carbon trim lift the interior's sombre atmosphere slightly and the deeply sculpted Recaros and tiny Momo wheel reek of no-nonsense toughness. The overall impact is one of barely concealed aggression. Like Mike Tyson in his prime, you get the impression that the MR would win most fights before actually throwing a single punch.
The FQ-340 is no fading star, though, and it's still got that killer punch. The reach of the turbo four-cylinder motor is incredible and it's all too easy to find yourself shifting into fifth on cross-country blasts. It almost feels like it's got sprint gearing until you realise it's electronically limited to 157mph! Unfortunately Mitsubishi had run out of the standard-fit and super-sticky Yokohama Advan AO46s when they were prepping our car so it was delivered with Yokohama AVS Sport tyres. They're nowhere near as good, robbing the MR of its other-worldly cornering powers. They also squeal like hire-car specials so we'll be finding some AO46s asap. Other than that it's been plain sailing so far, but with the mpg figure hovering around 19mpg and services required every 4500 miles I get the feeling Harry won't be such a big fan of the FQ-340 as I am...
Running Costs
| | |
| --- | --- |
| Date acquired | September 2004 |
| Total mileage | 5623 |
| Costs this month | £0 |
| Mileage this month | 1184 |
| MPG this month | 19.3 |