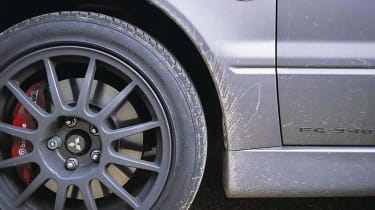 Already the Evo looks likely to be pressed into action more regularly than my old VX220 Turbo. Along with the Audi S4, it's the most practical car on the fleet and photographers love it. Now, as a general rule all car photographers have a Senna-esque turn of speed and unshakeable self-belief, so putting them into a 345bhp Evo means any hope of staying in close pursuit is lost. I keep telling them it's just the car, no reflection on their driving ability...
Anyway, when it's not loaded up with cameras and tripods it's proving as entertaining as expected. The revisions to the MR are spookily effective, particularly the even cleverer active yaw control unit. It seems impossible to wrong-foot the Evo; once the front tyres are hooked up, the rear jinks slightly to keep them nailed on line, and just as you hit full power and expect to need just a tiny correction, the angle stabilises and the Evo rockets out of the corner, totally neutral and completely devastating.
The only cloud on the horizon is that the superb Yokohama AO46 tyres on which the MR was developed and which complement the chassis perfectly, aren't available in the UK (other than fitted new to an Evo VIII). For now we'll make do with the Yoko AVS Sports on which our car was delivered but I'd like a more extreme solution to unlock the MR's full potential - I'll be having words with Yokohama!
Running Costs
| | |
| --- | --- |
| Date acquired | September 2004 |
| Total mileage | 6682 |
| Costs this month | £0 |
| Mileage this month | 1059 |
| MPG this month | 20.1 |