Production Jaguar C-X75 hypercar canned
Due to tough market conditions, Jaguar has pulled the plug on its C-X75 hybrid supercar.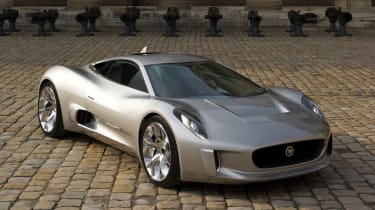 Just 18 months after Jaguar announced it was putting the C-X75 hybrid supercar into limited production, the company has decided to pull the plug on the project, because today's tough market conditions make the project financial unviable.
Jaguar's global brand director, Adrian Hallmark, made this announcement to a select group of journalists last night (10 December 2012), saying that the decision 'broke his heart'.
Jaguar had enlisted the help of Williams F1 and together they had assembled a crack development team to make this exciting car a production reality but today's austere market conditions meant Jaguar would never sell enough examples of the £1M Jaguar supercar to make the project viable. All the knowledge learnt from the C-X75 project will be transferred to core Jaguar products currently in the pipeline.
Five fully working prototype C-X75 have been built by Jaguar, all powered by the trick twin-charged (supercharged and turbocharged) 1.6-litre 4-cylinder engine producing well over 500bhp. This is coupled to ultra high-tech electric motors, which only weigh 23kg, yet are capable of producing 400Nm of torque.
Jaguar says the working prototypes hit their performance target of 0-60mph in 2.8secs and a 0-100mph time quicker than a Veyron, yet with emissions less than a Toyota Prius. Although the car won't now be going into production, Adrian Hallmark confirmed they plan to continue developing all five prototype C-X75 to the point where they are fully functioning cars that meet all the performance objectives Jaguar set for the C-X75 initially.
This work is expected to be completed by May 2013, after which Jaguar will keep three of the prototypes in the Jaguar historic fleet and will sell off the other two prototypes, most likely by auction. So if you've always fancied a 205mph Jaguar, that can crack 0-100mph in 5.5seconds yet can travel up to 60 miles on electric power only, get your cheque book ready…