Noble M600 CarbonSport revealed
Noble's M600 CarbonSport edition is unveiled at the 2013 Autosport International show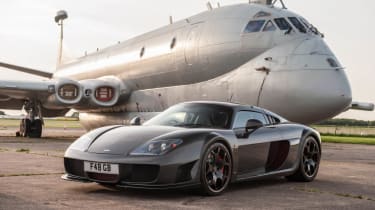 Noble's new version of its M600 supercar, the CarbonSport, has made its public debut at the 2013 Autosport International show at the NEC in Birmingham.
The car has been fully clad in perfectly joined carbonfibre, and has not been painted over as regular M600s have been. The CarbonSport also comes with a fully bespoke and customisable interior. Nothing has been changed mechanically, with the car still producing 650bhp and 604lb ft from its 4.4-litre V8 engine, retaining a 0-60mph time of 3.8sec and a claimed top speed of 225mph.
The CarbonSport will command a £30,000 premium over the standard M600, which retails at around £200,000, a price variable depending on how each individual customer specs his or her own machine. However, Noble managing director Peter Boutwood told evo that the level of interest in the CarbonSport thus far was such that he expects it to outsell the regular model.
'The last three cars we've sold have all been CarbonSports,' Boutwood said. 'I thought only a low percentage of our cars would be CarbonSports, but people see it and seem to think that it's so different and really makes it stand out.'
The Noble M600 laps the Bedford West Circuit. How fast?