Welcome to the new-look evo
evo.co.uk gets a new look to make the most of our fantastic images and video content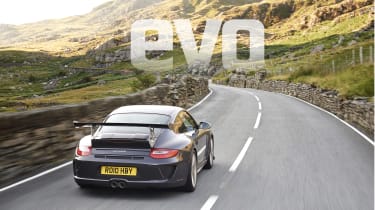 Dear readers of evo.co.uk,
Fifty years ago Porsche launched a sports car with the engine hanging over the rear axle. Or, as has become widely reported, in 'the wrong place.'
This car, the 911, suffered from wayward handling characteristics. And that's being polite. Not only that but its outright performance was average at best.
Other cars have been quietly euthanized for lesser crimes.
Nevertheless, Porsche stuck with the quirky character of the 911 and today the GT3 RS (in 3.8-litre guise) is the best modern-era car we at evo have ever driven. We nailed our colours to that particular mast in our epic 200th issue, and there's no going back.
We love the GT3 RS's completeness, its wholly resolved performance, and the total immersive experience it offers. Plus we marvel at how Porsche evolved the 911 into something that, in our eyes at least, epitomises the Thrill of Driving.
evo magazine oversteered into the world in 1998 as exactly that – a print magazine. Today we are one of the most innovative motoring brands in the digital space with a successful interactive app and a hugely popular YouTube channel. In other words, our model range has increased.
However the website has not received the attention it should have done over recent years, and it has fallen off the evolutionary curve. evo.co.uk was our 911 circa 1989 – when Porsche decided to give the car the attention it deserved.
Today we relaunch the evo website having evolved and improved it into something world class.
The old evo.co.uk was slow and unresponsive. It didn't and couldn't take advantage of the glorious photography and video that evo is known for, and did not offer the flexibility for enhanced reviews and in-depth content. This has all changed.
From now on evo.co.uk will be much more representative of the high-production values and thorough reporting that we are known for.
Other changes include better search functionality, clearer text, improved performance and stability and a new comments system that can be accessed via your social media accounts.
Our central tenet remains the 'Thrill of Driving' and we aim to be the number one global online destination for sports, performance and premium car reviews, news, videos and more.
A huge amount of work has gone into the site by development geniuses that will never get a credit or a byline, so we thank them sincerely. We may not have got everything right, but we'll be working flat out to correct any problems, and we appreciate your comments on any issues – good or bad – that relate to the new evo.co.uk.
You can use the feedback tab on the right of the page to leave any specific comments – and the more feedback we receive from you the quicker we can iron out any bugs. So as painful as it might be for us, we really need to know of any faults you may discover. 
The evo community site will be changing in the future, but for now, those looking for the forum can find it here.
Thanks in advance for your continued support of the evo brand.
Sincerely,
Nick TrottEditorevo