First British owner of McLaren P1, LaFerrari and Porsche 918 Spyder confirmed
British man becomes first to own hybrid hypercar trio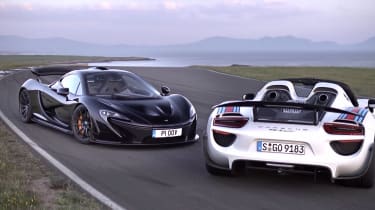 Car collector Paul Bailey is in the envious position of being the first British man to own a McLaren P1, Ferrari LaFerrari and Porsche 918 Spyder.
Bailey was the second person on the planet to take delivery of a McLaren P1, with his volcano orange car being dropped off last year. Completing the hybrid hypercar threesome saw him taking a road trip to collect the LaFerrari from Nottingham, in his P1. His wife drove the McLaren home.
The LaFerrari and P1 were then driven to a Porsche dealer in Cambridge, where he collected the 918 Spyder.
Having all three hypercars is extremely rare. Being given access to purchase the LaFerrari isn't easy and required you being a serious Ferrari customer. Still Bailey has likely one of the most special garages on the planet right now.
evo's Jethro Bovingdon recently compared the McLaren P1 and Porsche 918 Spyder on track. You can see that video below.