Gordon Murray unveils Project M ultra-efficient city car
'dream team' responsible for Honda MP4/4 returns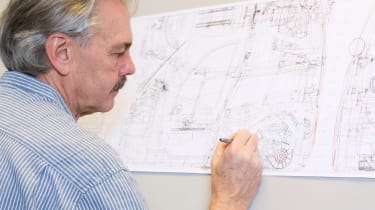 Gordon Murray's 2010 T25 city car has been given a fresh start thanks to a new partnership with Shell and F1 engine designer Osamu Goto, making its return as the 'Project M'.
Designed to show that the 'internal combustion engine still has life', Project M will be all about making the most efficient and lightweight city car possible.
Speaking to evo, Gordan Murray explained that the project was all about co-engineering different elements of the car, utilising the expertise of individuals to create one single highly efficient product.
It sees the return of Osamu Goto a former Honda F1 engine designer, and Shell fuels, both of which worked with Murray on the design of the now legendary McLaren Honda MP4/4 F1 car.
'It's always nice to get back together with a team of people who have already proven themselves as being hugely succesful'.
Lightweight appears to be the buzzword for the project, with Murray being adamant that absolutely every possible aspect of the car has been looked at and lightened.
Murray was quite outspoken about both electric and hybrid cars as well as specific technologies like start/stop, which are simply designed to 'circumnavigate combined emissions test'.
'The internal combustion engine will still be around for a long time' he explained, insisting that real world efficiency gains were going to be much more likely made via improvements in things like aerodynamics and weight savings.
Somewhat unsurprisingly and likely due to Gordan Murray's significant motorsport history, aero and weight gains are also what you would look for in F1.
Improvements are set to be made to the thermodynamics and efficiency of the Smart car-derived engine by Osamu Goto. Unfortunately however, as the car is mid way through its development, we still don't know exactly what gains are going to be made from aero, thermodynamics or lubricants.
To put things in context, the T25 on which the Project M will be based, delivered 97mpg using special low-friction Shell oils. A 6.5 percent urban cycle fuel consumption drop was gained using the Shell produced oil.
Unfortunately Project M will never make production, it is instead intended as a technical exercise to show what's possible when co-engineering a car for efficiency.