This is how the Roborace autonomous race car works
Final design of car for driverless race series is unveiled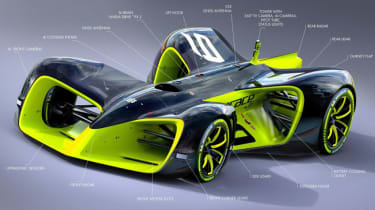 Roborace, the autonomous race series, has now unveiled completed designs for its driverless race car. Designed as a one-make race series which will appear alongside Formula E in 2017, the cars are said to be able to reach 180mph on a straight, without a driver.
The image released by Roborace does list some of the technology used to power the car, but no exact drivetrain details are known. An 'Nvidia Drive FX 2' AI brain controls the main operation of the car, while extensive front and rear cameras, ultrasonic sensors and radar arrays feed it information.
At the rear is a 360 degree TV camera, as well as status lights, likely similar to those seen in F1 to let martials know if the battery and electricals are safe. What's interesting, is that every single corner of the car is decorated in sensors, meaning a single knock or crash will likely put the vehicle out of the race permanently.
When Roborace was initially announced, evo opened up discussion about the series to its Facebook page. Readers made multiple interesting points, but the main issue most took with an autonomous race series was that if drivers themselves were removed as a limiting factor, why not push the cars to their absolute limits.
Without G force or crash structure issues, surely Roborace could act as a platform for experimental racing technologies and ultra-high downforce or high performance cars.
Currently, active aerodynamics are planned for the series, but exactly what, or if these will be above and beyond what we might see elsewhere in motorsport, remains to be seen.