Ginetta buys Blyton Park racetrack
One of the country's busiest test facilities, Ginetta will develop Blyton Park to 'breed the next generation of racing stars'
Leeds-based sports and racing car manufacturer Ginetta has taken ownership of the Blyton Park Driving Centre in Gainsborough, Lincolnshire. The purchase of the track will give Ginetta its own dedicated motorsport venue, plus the company will continue to offer the circuit for driving events including track days and driving experiences. The track, which has been open since 2011, is MSA licenced for sprint competition, and currently hosts a number of rallycross, grasstrack, supermoto and superlite events.
Ginetta says it wants to invest in the circuit, improving customer experience through greater configurability of the circuit, and improved facilities. Current track users will be kept at the forefront of these improvements.
Ginetta Commercial Director, Nick Portlock, said: "The purchase of Blyton Park made ideal business sense to Ginetta. It's one of the UK's biggest testing facilities and we are one of its biggest customers. We plan to invest in improving the customer offering and experience at the circuit, as it's crucial for us to ensure it remains 'business as usual' with all manufacturers encouraged to continue to use the facility."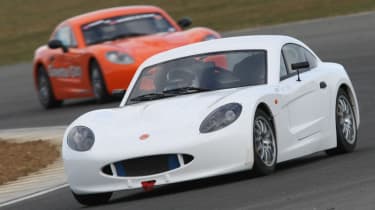 As one of Blyton Park's biggest current customers, Ginetta will continue to use the site for driver and car development. Former owner of the site, Richard Usher, will stay on to become Managing Director of Blyton Park.
Usher said: "Ginetta and I have a fantastic passion for motorsport and are keen to see racing talent flourish. Ginetta is heavily invested in their motorsport career ladder whilst Blyton Park is an ideal place to hone your race craft whether it be on two wheels or four. The circuit has gone from strength to strength in recent years, and the purchase by Ginetta is exactly what we need to continue the development. I am incredibly excited to begin the next chapter in Blyton Park's history and I am sure our customers are too."