Ferrari is rightly making quite a big deal about its 70th birthday, and part of the celebration was an exclusive sale of some of the marque's most iconic models. Held at Ferrari's headquarters in Maranello and run by RM Sotheby's, we'll be there revelling in the atmosphere of the weekend, being exposed to some of the most spectacular cars to wear the famous prancing horse.
One of the stars of the show is the unique alloy-bodied 365/4 GTB Daytona which you can read about below, but keep scrolling to read about some of the other lots going under the hammer.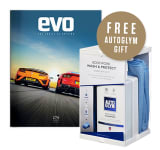 Subscribe to evo magazine
Subscribe today to our exclusive new offer and SAVE 39% on the shop price, get evo for its original cover price of £3.00 an issue, plus get a FREE gift worth £20!
As well as the RM Auction, Sunday's event also held a concourse, the first ever held by Ferrari itself. From Vignale bodied GT's of the 1950s right up to modern classics, Ferrari's 70th birthday proceedings did not disappoint. Stay tuned to this page and to our social media channels for all the latest over the weekend. 
1994 Ferrari 348GT/C LM
The Ferrari 348 never had a particularly good wrap when it was released in 1989. Born alongside non-exotic rivals like the Honda NSX, the 348 was seen as neither particularly fast or good to drive in comparison to the Japanese supercar. The slick NSX made Ferrari's engineering seem a little crude and under developed, but isn't it interesting how the change of time and context can suddenly make the 348 seem staggeringly desirable? The 348 was widely used in competition, but unlike the numerous Challenge and GT Competizione racers, this 348 GT/C LM was developed for a specific commission, namely the Le Mans 24 Hours. One of just two cars built for the BPR Global GT Series class, the GT/C LM was given multiple upgrades directly from the iconic F40 Competizione. Raced over a total of six rounds in the 1994 season, this GT/C LM is still wearing its original Ferrari Club Espana livery and could just about be the most appealing and desirable 348 of them all. 
1985 Ferrari 288 GTO
What more is there to say about the spectacular Ferrari 288 GTO that hasn't already been said? Pre-curser to the iconic F40, the 288 GTO was the last true Ferrari homologation special, with just 272 examples assembled to allow Ferrari to race in the FIA Group B Rally championship.  This specific example, aside from being up for sale at the factory, is build number 255 and has covered just 452 during its life making it one of the most factory-fresh Ferrari 288 GTOs in the world. Finished in classic Rosso Corsa paintwork, this is believed to be one of only 19 units ordered in 'lightweight' spec without power windows or a radio. Being in the same echelon as the F40, F50, Enzo and LaFerrari, a 288 GTO in this condition is a truly rare car – a fact reflected in its sale price estimate of £3m-£3.5m.
1969 Ferrari 356GTB/4 Daytona 'alloy body'
The Ferrari 365 GTB/4 Daytona could hardly be considered a common car, but with a total of 1406 coupes and spiders built between 1968 and 1973 it may as well be a Ford Fiesta compared to one very special variant that is just about to go up for sale at RM Sotheby's Leggenda e Passione being held in Italy alongside Ferrari's 70th anniversary celebrations. The car in question, a barn find from Japan, may look unremarkable (as unremarkable as a Daytona gets, anyway), but when you hear that it's the only alloy-bodied Daytona road car in existence, it begins to take on a new significance. evo at Ferrari70
Officiated by Ferrari marque expert Mercel Massini, this hallowed 'alloy' Daytona was thought lost by most collectors, but for a very select few. Traded between various owners in Italy after its initial delivery in 1969, the car was eventually purchased by a Ferrari dealership in Japan, swapping hands until it was acquired by Makoto Takai, eventually placing the car in his garage and closing the doors for 40 years.
Undergoing a full evaluation to confirm the car's authenticity, this specific Daytona was indeed confirmed to match the factory's build records, including the original Rosso Chiaro paintwork and nero leather interior. With a little over 22,500 miles, the fact that this is the only alloy bodied road car makes it a unique option for those partial to Ferrari's most eloquent GT. 
A total of 15 other alloy-bodied competition cars were built, but none have gathered the almost mythical status attained by this one-off Scaglietti-built road car.
History
To understand the 365 GTB/4 Daytona, you first have to understand its context. Designed as a successor to the 275 GTB/4, the most distinguishing feature of the Daytona was not its engine or handling prowess, but its stunning Pininfarina designed bodywork that aesthetically set it apart from most other cars in the late 1960's. 
At the time of the Daytona's launch in 1968, Aston Martin was building the DB6, a beautiful yet thinly veiled upgrade of the aging DB5. In contrast to the comparatively curvy bodywork of the Aston, the pointed, shark-like shape of the Daytona made the world take notice of a brand that was quickly losing its focus outside of motor racing.
Designed to appeal to the American market as much as Italy's alpine roads, the Daytona proved to be a massive success stateside, regardless of the legislative hoops that they had to jump through to continue US sales. The Daytona was also the last model that Ferrari had complete control of before its partial absorption into the Fiat Empire and was also Ferrari's last 12-cylinder car to be sold in the US till 1984. 
We'll get to see the alloy bodied 365 GTB/4 Daytona in the flesh when we attend the RM Sotheby's Leggenda e Passione in Maranello next month along with Ferrari's 70th birthday celebrations. Stay tuned for our coverage of the event on Twitter and Instagram over the next couple of weekends.