British drivers being caught at 'excessive speeds' during Covid-19 lockdown
Some motorists are exploiting empty roads and hitting huge speeds, putting themselves and others at risk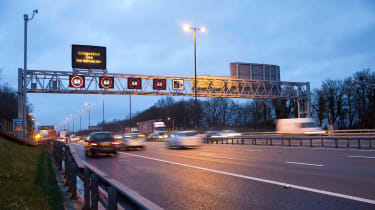 As the unprecedented restrictions being asked of nearly half the world's population due to the Covid-19 pandemic persist, the limitations imposed have started taking their toll. The ability to get in the car and go for a drive is one such freedom we're particularly fond of at evo, but while most are adhering to these new rules, some drivers have been taking advantage of the quiet roads, not just breaching lockdown regulations, but speed limits too. 
Police departments around the country have been catching some motorists taking advantage of the quiet roads, hitting 'extreme' speeds on not just motorways and quiet A-roads, but on residential roads too.
As reported by evo sister title Auto Express, London's Metropolitan Police has apprehended a number of drivers at 'outrageous' speeds, including one who reached 134mph in a 40mph zone. While Surrey's Roads' Policing Unit reported that one driver caught at 130mph on the M25 said: 'I thought the faster I went, the less chance I could catch coronavirus.'
Detective Superintendent Andy Cox from the Met Police has said officers from his force had stopped two drivers racing at 80mph on a 40mph road, and also confirmed another instance of a driver reaching 142mph.
Cox told LBC Radio that average speeds in urban 20mph zones had risen to 37mph, and warned such driving wasn't just putting pedestrians, cyclists, and other road users at risk, telling LBC Radio: 'We know that with speed, especially extreme speed, comes increased risk of a serious crash. And potentially, if you're involved in a high-speed collision, you're going to end up in hospital, and potentially deprive Covid-19 patients of NHS care.'
Other municipalities around the UK have had similar cases, including arrests in Manchester and Surrey.