Hans Mezger (1929-2020) - the great Porsche engineer
Hans Mezger, the engineer responsible for a dynasty of iconic Porsche engines and race cars, has died.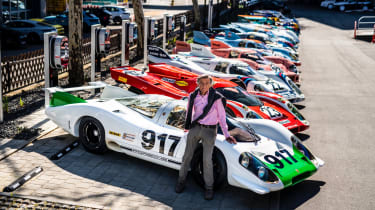 Hans Mezger, the man responsible for Porsche's most iconic and successful road and race car engines and cars has passed away at the age of 90. 
Born on 18 November 1929 in a small village on the outskirts of Stuttgart, Mezger joined Porsche in 1956 after he graduated from the University of Stuttgart where he studied mechanical engineering. Initially joining the calculation department he was, amongst other things, responsible for the valve control for all of Porsche's engines and by 1960 his skill and talents were recognised by Ferdinand Piech, who moved Mezger to Porsche's Formula 1 team, where he was responsible for engine and chassis design. Porsche's first and only Formula 1 victory as a manufacturer came in 1962 when Mezger's Type 753 1.5-litre eight-cylinder engine was installed in the 804 chassis. 
Mezger's star continued to rise within Stuttgart and Ferry Porsche quickly handed the young engineer responsibility to design a new air-cooled flat-six engine for the company's forthcoming 2+2 rear-engined  sports car. Along with designing the 901/911s engine, Mezger was also responsible for all of the company's racing engines. 
Away from the engines, Mezger also designed the 910, 907, 908 and a 917 race cars, the two-litre four-cylinder engine for the 914 and was responsible for for the 917/10 and 917/30 CanAm racers and their turbocharged engines. 
Turbocharging was soon to be rolled out across Porsche's other race cars in the 935 and 936, as well as the 930 road car. And within a couple of years Mezger had developed water-cooling and four-valve heads for these engines, too. Engines for Harley-Davidson and Indy Car racers also came under Mezger's remit and in 1981, when McLaren chose Porsche to design its new Formula 1 engine, Mezger was responsible for its all conquering 1.5-litre, 80-degree V6 turbocharged motor. It powered McLaren to three driver world championship titles and two F1 construction titles. 
He was also instrumental in the development of the 956 and 962 Group C cars, considered the greatest of their time and by some the greatest of all time.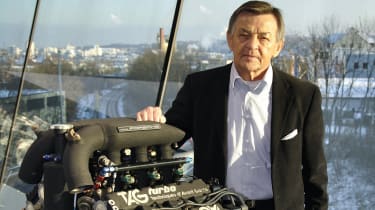 Until his retirement in 1993, all of Porsche's on track success could be traced directly back to the engines and cars Hans Mezger either designed or at least was responsible for. After his retirement Mezger's expertise lived on in the company's products, most notably the 911. Even when the flat-six became water-cooled with the introduction of the 996, a handful of models could trace the origins of their flat-six motors back to a Mezger design. 
By now, however, the Mezger 'six was reserved for those special 911s. Initially the 996 Turbo, GT2 and GT3. And while the 997 generation Turbo and GT2 were the last to utilise a Mezger designed motor, the GT cars - GT3 and GT3 RS - continued to be fitted with a Mezger 'six until the introduction of the 991 based models. The engine design's most extreme incarnation was for the 2011 911 GT3 RS 4.0, where a frankly unbelievable 496bhp was extracted from a 4.0-litre, naturally aspirated flat-six  engine that started life back in 1993 with the GT1 race program. 
Following his retirement Hans Mezger was still present at a number of Porsche events, always on hand to talk to the press and customers. While the topic invariably turned to him and his achievements he was always interested in your opinion of Porsche's latest offering. His interest went beyond a corporate role, he wanted to hear what had been done correctly and where improvements could be made. You felt his retirement was a formality, for he never really left the Porsche family. It wasn't unusual to spot the newest recruits grilling the grand master for his feedback on their latest work, listening with an intensity to the man who had been responsible for the creation of the company's greatest engines and race cars. 
The very best car companies are built on the innovation and expertise of the people it employs, and in 1956 Porsche made one of its most significant appointments in Hans Mezger. 
Hans Mezger 1929 - 2020