MOT test changes to bring new fault categories from May 2018
Three new categories for faults and failures will be introduced to the MOT test as well as tougher emissions tests for diesels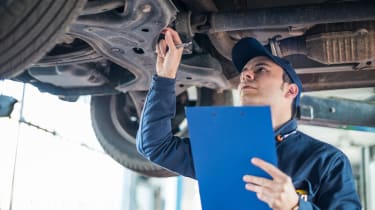 From May 2018 onwards, MOT faults will be classified according to their level of severity with three categories: Minor, Major and Dangerous.
Major and Dangerous issues will result in an automatic MOT failure, unlike Minor faults which won't prevent a vehicle pass. However, Minor issues will be recorded on the MOT certificate, just like advisories, which will be retained in the new MOT assessment taxonomy.
MOT testers have been handed comprehensive guidelines by the DVSA to determine what distinguishes a defect as Minor, Major or Dangerous. Take a malfunctioning steering system for example: if the steering box is leaking oil this would register a Minor fault, a more substantial leak however, could raise a Major fault.
Should the steering wheel be loosely secured and 'be likely to become detached', that would be cause for a Dangerous MOT fail and this would be flagged as an issue requiring immediate attention.
Speaking to our sister title carbuyer, Neil Barlow, head of MOT policy at the DVSA, the organisation that regulates the MOT test, explained, 'we're changing the wording on the certificate. We've done a lot of research with motorists to find out what sort of information helps'. Barlow hopes the changes will encourage motorists to see to the problems in order to avoid facing punitive action outlined in the Road Traffic Act, which states that: 'A dangerous item means that a vehicle should not be driven away from the garage,' and 'driving a vehicle in a dangerous condition is a criminal offence.'
The new MOT revisions also aim to reduce diesel car emissions according to a Government blog. This is reflected in the draft MOT inspection manual which explains that if the, 'exhaust on a vehicle fitted with a diesel particulate filter emits visible smoke of any colour' a Major fault should be recorded, hence the car will fail the MOT. Recent concerns over the number of cars on the road that have had their diesel particulate filters removed to save on costly repair bills may be a factor in this move.