Bristol Fighter: 1000bhp Bristol Fighter T
Bristol unveils 1000bhp road car capable of 270mph, and set to be the UK's challenger to the Bugatti Veyron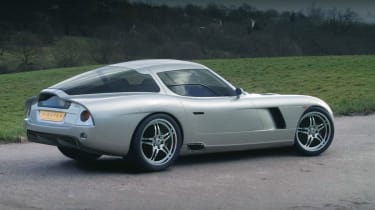 Unlikely as it might sound, Bristol Cars is set to unleash a car with more power, more torque and potentially a higher top speed than the Bugatti Veyron.
The 8-litre V10 Fighter supercar is now available with two intercooled turbos, boosting power to a scarcely believable 1012bhp at 5600rpm and, even more stunningly, 1036lb ft at 4500rpm. According to Bristol's calculations, the new Fighter T, as the car has been named, should be capable of 'over 270mph'. However, customer cars will be limited to just 225mph.
Priced at £346,625 – around £115,000 more than the standard 525bhp Fighter – the first T will be delivered in September 2007. The average Fighter owner (if there is such a thing) covers over 10,000 miles per year in their hand-built, front-engined supercar, and many use them for trackdays.
The most common request the factory receives is for 'more power'.Bristol has a good relationship with Chrysler, which supplies its 8-litre V10 to Bristol's own specifications for the Fighter and (628bhp, normally aspirated) Fighter S models, but had to work on the turbocharger system in its own engineering facility in Florida. The results are startling, and Toby Silverton, owner and engineering force behind Bristol, is adamant that the T is just as docile and tractable around town as the standard car. He also says that it's 'incredibly good fun' and that 'it gets up to 225mph [at just 4500rpm] very quickly indeed'.
The engine's internals have been reinforced to cope with the turbos blowing at 10psi, and the six-speed gearbox is thoroughly uprated. Torque is limited up to around 85mph (both for improved traction and for the sake of the 'box), but Silverton says the car has remarkable traction thanks in large part to its 48/52 weight distribution.
The T's chassis is 30 per cent more rigid than a regular Fighter's, allowing the fitment of stiffer springs and dampers, and a thicker front anti-roll bar.
The Fighter has always been a bit of an oddball supercar, and with the T it's even more intriguing. However, you've got to admire the sheer absurdity of a 1012bhp, 225mph supercar from a tiny British engineering company. If the car verifies its 270mph+ potential at Nardo (and Silverton says it will) then the huge expenditure and massive delays suffered by the Veyron will start to look very silly indeed…