It was an opportunity too good to miss; a chance to drive what is probably the ultimate racing Jaguar C-Type in existence today in the 2009 Mille Miglia event, organised every year to recreate the magic of the ultimate 1000 mile road-race the world has ever seen. Stirling Moss drove a C-Type there in 1952 but he's better known for when he completed the course at an average speed of just under 100mph in 1955, driving a Mercedes 300 SLR.
The C-Type I'll be in is owned by a well known Jaguar collector/racer and is set up purely for racing, being used in events like Classic Le Mans, rather than a tough, 1000 mile road route round some of the best roads in Italy. With a 3.4-litre straight-six engine, pushing out around 260bhp and an all-up weight of just 850kg, it's reckoned to be the quickest C-Type in the world today. Probably not the most comfortable car to be entering the event in, but then we wouldn't have it any other way.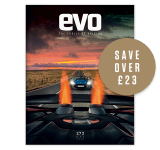 Subscribe to evo magazine
Subscribe today to have every issue of evo delivered straight to you. You'll SAVE 39% on the shop price, and get evo for its original cover price for a whole year!
Whatever happens, I know already this is going to be an unforgettable experience so I'll be reporting via my iPhone over the next three days to try and give you an idea of just how tough this event really is, let's get started…
DAY ONE 16:22 updateThe race starts at 20.40 tonight, but is having big problems as it has stopped charging and as the first part involves a four-hour drive at night, we won't be able to run until it's fixed.
We're trying to hot-wire it at the moment and the crew's trying to find more batteries to take with us.
377 cars have entered and the fastest cars run last. This year the quickest is the Jaguar D-Type that won Le Mans in 1958.
18:25 updateLooks like we're going to able to start after all. Someone had a spare regulator and the mechanics have made it work. Now trying to get to grips with the maps and split-second timing through the gates. It's much more serious than I thought. Should have brought seven stopwatches apparently, but just got the one. Start is 2.5hrs away, hope it's fun...
20:19 update In queue for the starting ramp, I've got eight borrowed stop-watches ahead of me and wondering why I volunteered for this but Nigel has just fired the race engine up and I've remembered...
Into the night in a C-Type on a barmy night in Italy is a brilliant prospect right now.
11.30am update
Mille miglia madness, stopped by side of road to stop us arriving too early. Got to waste 10mins so stretching legs.
All of Italy still lining the route. Would that ever happen in UK at this hour of the morning?
DAY TWO 00.30am updateJust leaving the car now to find the hotel. Cars lining the streets which are still thronging with people.
Back at 7.30 to get ready for our start time of 8.22am!
06.00am
update
David Coulthard's car rocked into Ferrara at 1.30am, followed by Mika H in new SLR Stirling Moss edition. See the pic of his Merc! Stunning display of cars lining street, woken to the sound of '59 Tesstarossa being exersised by its mechanics. Need to get to start as ours is at 8.22 but chaos reins on the streets of Ferrara this morning.
09.45am updateJust coming into first stop of the day and after a cloudy start with a few spots of rain the sun is starting to break though.
Got yesterday's results and we were lying in 81st place overall, which we were chuffed with.
Car is running like a dream, stuttering up to 2500rpm then coming on cam and tearing up to the redline as the triple Weber 45s gobble the morning air.
10.29am updateCar stalled in traffic and now won't start! Crew here and swapping batteries and, hey presto, were running again.
11.10am updateClutch died on way up into San Marino. Combination of race clutch, Le mans gearing and cammy engine. Cooled down now and working again.
Using our nine lives up fast this morning!
13.04pm update
After San Marino it started to rain and started the pantomine of putting waterproofs on but not stopping.
It soon became clear we were going to be late but the way other competitors were throwing their cars into the barriers quelled our enthusiasum for trying to make time up. In the end we arrived 22 minutes late so our place in the top 100 will of gone.
Matter of survival now as car isn't happy and finish looks a long way away.
16.10 update
That's more like it, stage six had plenty of fast roads in it so we've got time in hand now. Car has been christened the 'noisy b***tard' now, due to it's lack of silencers. It's a term of endearment, by the way, but I've taken to wearing one earplug as the exhausts are just inches away from my left lughole.
It's a crowd pleaser, though and I can't believe the number of evo readers here. Please come and say hello if you see us stopped. Still another 120 miles to go to Rome, then the wild police escort to the centre.
17.30 update
Stuck at a time gate.
See image
. In good old Italian style there's a massive queue. So much for our perfect timing to get here!
18.21 updateJust arrived at Terminillo after driving through banks of snow, in some places these are 10ft tall!
No idea where exactly we are but I do know the clutch is gone. There are strange noises as it engages and we're looking onto changing it tonight.
23.00 updateIt's 11pm, in a underground carpark in Rome and the poor mechanics are about to start the five-hour gearbox extraction process. Really feel for them but it's the only way to make the car driveable again. More drama to follow...
It's going to be a long night ahead...
DAY THREE 07.09am update
Received a text came at 2.02am 'clutch done, car ready to go.'
Mechanics Festa and Gary had really cracked on, removing the gearbox by stripping the interior out first.
Our start time is 7.22am. Here we go again...
10.41am update
We are now into Tuscany, in the Val D'Orcia to be exact, a location which has been host tomany evo road tests in the past. It's my turn to drive today and the car is even better than I could imagine.
Raw is the best way to describe it, the noise all engulfing but so wonderful too. Once over the 'hump' the engine has endless power to delve into. It's so quick on these roads too, the big steering wheel giving all the feel you need to use the chassis to the full.
Today is going to be a very special day.
17.34pm updateAnother technical hitch hit us in Siena, I lost my phone!
We decided it must of dissappeared via a big gaping hole by the side of the driver's seat. The hole's there to clear a suspension joint but big enough for a phone to fall down and onto the road. However, when we went to check the battery, wedged underneath it was my phone. A very lucky escape!
It's hot out here, around 28 degrees, and the traffic is dense around Florence so everone is suffering with cooling problems. The 'NB' is behaving well. I can't get over the brakes. They're brilliant, solid pedal and loads of power. Apparently they were always an outstanding feature of the C-Type.
We had to bump-start the car in Florence as we'd had the cooling fans on too much. Futa pass was too crowded to enjoy and the scene of some very dodgy overtakes.
It's time for a coffee now and the run to Bologna next.
19.53pm updateJust driven through the Ferrari factory, normally out of bounds to cars not made by Fiat group. It looked like they couldn't wait for us to leave...
We've swapped roles as the weight of the clutch has got to me. It's a killer, especially if you're tall as your leg is bent up too much to fully push the pedal. The downside of being the passenger side is you get all the heat from the exhaust but at least you get more padding on the seat. There's always an upside if you look hard enough!
Still 180 miles to go. More later. 20.42pm update Now it's the light causing problems. Our electrical problems mean they're like candles so we're taking the covers off and hoping this will help. Yet another long night ahead.
11.28pm update We made it! Currently in the queue for the finish ramp in Brescia after some 1150 miles of trauma but also with some very special moments along the way.
More to follow once I can find a phone charger!
DAY FOUR 04.05am updateWell, we finally made it to the finish ramp at 1:20am and I've just come back from a bite to eat with the rest of the Jag crew.
Norman Dewis was there and he was co-driver to Stirling Moss when Jaguar entered the Mille Miglia in a C-Type in 1952. They got up to third that year before they had a mishap some 130 miles from the finish. They averaged around 80mph up until then, even though they had no pace maps and neither has ever driven the route before. And to think we took around 50 hours, including 10 hours sleep...
This event is nuts!,>
Extra Info