12 tons of lift in a car that only weighs 6.5. A few months back it really did look like Bloodhound's designers had actually managed to mistakenly create an aeroplane.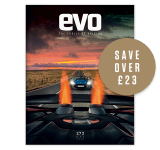 Subscribe to evo magazine
Subscribe today to have every issue of evo delivered straight to you. You'll SAVE 39% on the shop price, and get evo for its original cover price for a whole year!
It's easy to view the land speed record as a bit outmoded these days, but it brings out the small boy in us all, doesn't it? It's not just the target top speed of 1050mph, but the sense this is a cutting edge project being handled on a shoestring budget – even the team refer to it as an engineering adventure. Safe to say that 12 tons of rear end lift would have made it a real adventure for driver Andy Green…
The design has been through 10 different configurations since the first sketch in 2008 and still isn't finalised, but the aerodynamics team believes it has now brought the car's tendency to try to become airborne at 800mph under control.
At the moment this is all theoretical, since the modelling has all been done by computer, but the programming suggests that the modifications made to the wheel fairings and the addition of a rear diffuser should allow all four wheels to remain in contact with the ground.
The trouble is that too much downforce pushes the wheels too hard into the ground, so the only way to solve the puzzle was to design the car to be inherently unstable at low speed (under 300mph) but then rock solid at the speed of sound, where air speed is concurrently below, at, and above Mach 1. Above that it's 'just' a matter of blasting the air out of the way.
According to Ron Ayers, the chief aerodynamicist, 'the shape we ended up with by this mathematical process is not one that I would have arrived at by intuition and experience'
Earlier design studies, which had a 200kg hybrid rocket mounted above the Eurofighter jet engine, found that when fired, the 200kg rocket mounted above the Eurofighter jet engine, forced Bloodhound's nose violently downwards. The solution to this was to switch the positions of the two and double the size of the rocket, which now delivers 27,500lb of thrust. The jet engine contributes another 20,000lb of thrust, giving Bloodhound the equivalent of 135,000bhp and the ability to out-accelerate a fighter plane... 
VIDEO: Bloodhound takes on the Eurofighter
The team is still on course to head to Hakskeen Pan a 12-mile long dried up lake bed in South Africa's Northern Cape province, next year.
Click here to read more on the Bloodhound website
Read Ollie Marriage's blog on how to get your name on Bloodhound