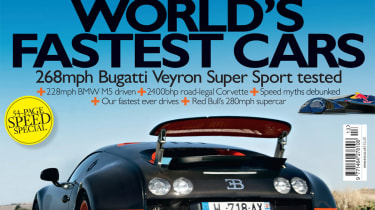 NewsRed Bull don't just make fizzy drinks and F1 cars. They've turned their hand to space age supercars, too - see the stunning X1 in the latest issue (and on video here)
First DrivesThe Audi R8 GT, Lotus Evora S, BMW 1-series M Coupe and Subaru WRX STI are put through their paces LettersLotus needs to change, we need to stop driving Nissan Jukes and Chris Harris needs to man up On the cover - Bugatti Veyron Super SportThe world's fastest supercar is the startling Bugatti Veyron Super Sport. But does 268mph and 1183bhp translate into a compliant and capable road car? Chris Harris and Harry Metcalfe spend a special day together to find out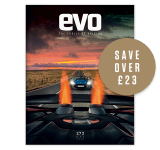 Subscribe to evo magazine
Subscribe today to have every issue of evo delivered straight to you. You'll SAVE 39% on the shop price, and get evo for its original cover price for a whole year!
Top speed stories - fact or fictionSupercar speed record stories always attract their naysayers. We split the truths from the myths
The world's fastest four-doorG-Power's tuned BMW M5 goes faster than most hypercars. Henry Catchpole drives it
Lamborghini Super TrofeoA gridful of Gallardos makes up the world's fastest one-make race series. Roger Green and John Barker drive (and crash) in it
The 2400bhp CorvetteJonny Smith rides shotgun in the world's fastest street-legal car
Audi RS5 v its rivalsIs the Audi RS5 made of the right stuff? Or is it bettered by the BMW M3, Mercedes C63 and Lexus IS-F? Road and track tests shall decide…
Long-term testsOur Aston Roadster has gone, leaving a frisky Spaniard, powerful Brit and big-winged Italian to fight for its parking space
Cars for SaleThe Fiat Panda 100HP - a ball of energy for a small handful of cash
The KnowledgeEverything you want to know about performance cars. Unless it's the Fiat Coupe Turbo
Ask the ExpertsIt's a well-trodden question at Evo Towers: how do you turn an E36 M3 into a hardcore track weapon?
Me and my car - Chris Bale and his DeLorean DMC-12Meet the man who found a DeLorean impossible to resist