Aston switches Rapide production to UK
Aston Martin announces it is going to move production of the Rapide saloon from Austria to Gaydon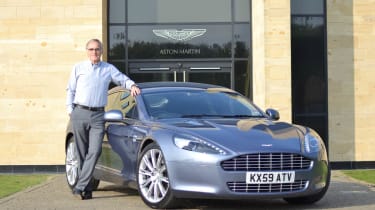 Aston Martin has announced that it will be switching production of the Rapide saloon from Austria to its Gaydon plant. The move means that, from 2012, all the company's models will be assembled in the UK.
Magna Steyr, which currently produces the Rapide in a dedicated facility at its Graz plant, has been given a 12 month's notice of Aston's intention to shift production. An AM spokesman told evo that the Gaydon now has production capacity to build the Rapide, which will be assembled alongside the company's other models. 
Around 240 people work in the Aston Martin facility in Graz, and the company confirms it's possible that repatriating production will lead to the creation of new jobs in Gaydon. 
"In 2008 we had facility restrictions at Gaydon which indicated that production of Rapide at Gaydon would likely compromise production of other cars," said AM's chief exec, Ulrich Bez. "Now, three years on things are very different – Gaydon is more established, more flexible and more efficient. While our overall volume has not changed significantly, we now produce a far richer model mix – so Rapide production is now possible.
Aston will start preparing Gaydon for Rapide production immediately, with production scheduled to begin in the second half of 2012.
"Magna-Steyr have been an excellent partner for us," a company spokesman told us, "it's a year's notice and they won't have any problem filling the capacity."