Chinese maker Geely launches in UK
Chinese car manufacturer Geely has confirmed plans to launch in the UK, with a range of models that will start below £10K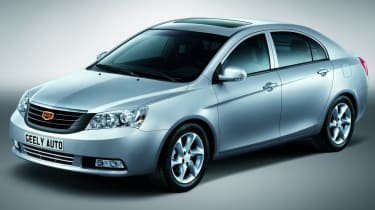 Chinese manufacturer Geely, the company that owns Volvo, has confirmed plans to brings its own models to the UK market.
The first car to come here will be the Geely Emgrand EC7 - which scored a decent four-stars in the recent round of EuroNCAP crash tests. It will be available as both hatchback and saloon, powered by 1.5-litre and 1.8-litre petrol engines, and with a range set to start at under £10,000. Other models will follow, the official plan being to release 'at least' one new model here every year for the next four to five years.
And Geely's emphasis on value might well win it a spot in the market. Hyundai and Kia, the Korean manufacturers who previously occupied the bargain basement, have been moving upmarket for years - and other low-cost companies like Proton and Perodua have struggled to expand their minimal market presence. Geely's model is in contrast to that adopted by Chinese-owned MG, which has been trying (and struggling) to sell the MG 6 at price levels similar to mainstream rivals.
All of which leaves a bigger question, of course - how long will we have to wait for Geely to produce a car with genuine driver appeal. With the development speed of Chinese industry, it might not be as long as most people think.