Pirelli launches 2012 F1 tyres
Pirelli has launched its 2012 Formula One tyres at the Yas circuit in Abu Dhabi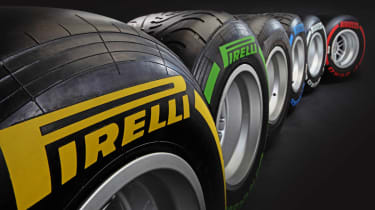 Pirelli has launched its 2012 Formula One tyres at the Yas circuit in Abu Dhabi today. 
Bizarrely, Pirelli describes the new tyres as being much 'squarer' than the 2011 tyres. This relates to the side profile of the tyres and has been done because Pirelli is expecting a drop in downforce due to the ban on 'blown diffusers'. Being squarer in profile keeps the contact patch more stable as speed increases and will improve wear rates (so less blistering), particularly on the shoulder of the tyre. 
As in 2011, there will still be six different tyres available to the F1 teams. Four are slicks – branded as P Zero Red, Yellow, White and Silver) – and two are wets, marking the return of another historic Pirelli name – Cinturato Blue and Green. Pirelli are saying compounds are softer throughout the range (except for the 'supersoft' P Zero Red) as the company wants the speed of degradation to return to the levels seen at the beginning of the 2011 season. 
Paul Hembery, Pirelli's Motorsport Director, hinted that the company wants to make three pitstops per race its 'target'.