Windsor Tour of Elegance needs you!
You could take part in the Windsor Castle Concours of Elegance, from 7-9 September, with your performance car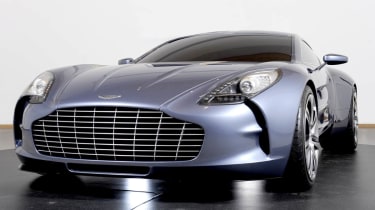 The recently announced Windsor Castle Concours of Elegance, from 7-9 September, is on course to be one of the most spectacular and important events in the motoring calendar. Sixty of the most stunning concours cars from around the world have been invited to celebrate Her Majesty the Queen's Diamond Jubilee with a spectacular display to be held in the quadrangle of Windsor Castle.
Friday 7 September is an invitation-only Owners Day, while Saturday 8 and Sunday 9 September are open to the public with tickets available from £25 each. Proceeds go to charity.
On Sunday 9 September the Jubilee Tour of Elegance, in association with Octane, will depart from central London and take a specially chosen route to Windsor. The final approach will include a spectacular drive up to the Castle.  Classic and performance cars will be selected from 1952 to date, representing each year of Her Majesty the Queen's reign.  Drivers and passengers will be asked to dress in period costume to match the year of their cars and, as this is a charity fundraiser, spare passenger seats will be auctioned. Entrants on the Jubilee Tour of Elegance will have free access to the Concours in return for a donation.
The list of cars
These are just some of the cars we want to invite to take part in the Jubilee Tour of Elegance on Sunday 9 September (full list here). If you have any of these cars and would like to be considered, please email us at rebecca@eventspr.co.uk for the attention of the Windsor Tour of Elegance.
1959 Mini // Jaguar Mk2 // Maserati 5000GT
1960 Alvis TD21 // Aston Martin DB4 GT Zagato // Saab 96
1964 Porsche 911 // Ferrari 275GTB // Sunbeam Tiger
1967 Toyota 2000GT // Aston Martin DBS // TVR Vixen
1970 Range Rover // Triumph Stag // Citroen SM // Lamborghini Urraco
1976 Aston Martin Lagonda // Lotus Esprit // Porsche 924
1977 Porsche 928 // Alfa Romeo Giulietta // BMW E23
1978 BMW M1 // Mazda RX-7
1979 Lancia Delta // Mercedes-Benz S-Class W126
1980 Audi quattro // Ferrari Mondial // Austin Metro
1981 DeLorean DMC-12 // Lamborghini Jalpa // Maserati Biturbo
1982 Lotus Excel // Porsche 944    
1983 BMW M635CSi // Land Rover Defender // Peugeot 205
1987 Ferrari F40 // Ferrari 348 // Land Rover Discovery
1988 Porsche 964
1989 Aston Martin Virage // BMW Z1
1990 Honda NSX
1991 TVR Griffith // Bentley Continental R
1992 McLaren F1 // Jaguar XJ220 // Ferrari 456
1997 Jaguar XK // Bentley Turbo RT
1998 Bentley Arnage // Porsche 996
1999 Pagani Zonda // Ferrari 360
2001 Aston Martin Vanquish
2004 Porsche Carrera GT // Aston Martin DB9 // Ferrari 612 Scaglietti
2005 Bugatti Veyron // Aston Martin Vantage // Gumbert Apollo
2006 Ferrari 599 GTB Fiorano // Lotus Europa S // Audi R8
2007 Nissan GT-R // Maserati GranTurismo
2008 Rolls-Royce Phantom Coupe // Jaguar XF // Lotus Evora
2009 Ferrari 458 Italia // Aston Martin Rapide // Jaguar XJ
2010 Aston Martin One-77 // Mercedes-Benz SLS AMG   
How to enter the Jubilee Tour of Elegance
We looking for a minimum of a £100.00 donation to charity for anyone who's cars are entered, and Tour participants will have free entry to the exclusive Windsor Castle Concours of Elegance on arrival. As such we would expect entrants to make a contribution to the charity.
Please email a clear photograph of your car, a maximum of 100 words describing its history as well as your contact details. Cars should be in clean original condition. Passengers should dress in period clothing.
Note:
Octane
Octane
Octane