GM releases new line of turbo engines
Vauxhall and Opel are set to receive a new range of engines, starting with a 1.6-litre turbo petrol towards the end of the year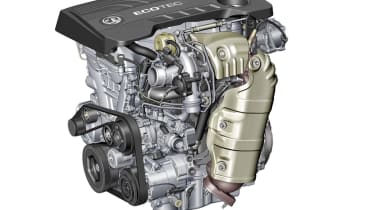 GM has released details of its new generation of direct injection, turbocharged petrol engines. The latest high-tech engines will be used across the Vauxhall and Opel range, in various states of tune – including the incoming 276bhp Astra VXR.
The 1.6-litre petrol is the first of three new families to go into production, and it's full of new technology, including GM's own direct injection system – a company first for such a small engine – which gives the engine a higher torque output than an equivalent larger normally aspirated engines.
In standard tune, the 1.6-litre engine develops its 198bhp peak power at 4700rpm and 221lb ft peak torque a very diesel-like 1700rpm, which suggests it has been tuned to feel like a larger engine. Later on, a larger 2.0-litre petrol engine will be launched, which in its top state of tune - a mighty 276bhp - will power the Astra VXR.
The announcement follows an industry-wide shift towards using smaller turbocharged petrol engines, in the hope of reducing company CO2 emissions. The engine will be produced in the company's Szentgotthardt plant in Hungary, starting in late 2012.