Superchips Focus ST upgrade
a new 297bhp upgrade for the new 2012 Ford Focus ST has just been launched by Superchips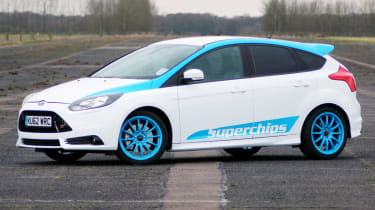 ECU tuning specialists Superchips has launched its first upgrade package for the 2012 Ford Focus ST, offering a healthy increase to 297bhp – up from the standard car's 246bhp.
The peak power increase is the impressive headline figure, but the remap also gives the Focus access to more power and torque lower down in the 2.0-litre Ecoboost's rev range. The upgrade also includes adjusted throttle mapping for sharper responsiveness.
Superchips is proud of its history with Ford tuning, and says that the upgrade for the previous-generation Focus ST is still one of the best-selling products. All upgrades are covered by a two month or 30,000 supplementary vehicle warranty for peace of mind.
It's on sale from Superchips now, and is priced at £455.00 all in including fitting. Alternatively, you can go for the DIY Bluefin handset, which allows you to upload the new maps at home in a matter of minutes. This also means you can revert back to the standard power if you ever need to.