How to drive a better car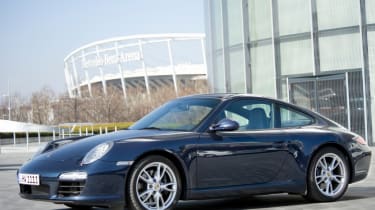 Exploring the options
Having a 'practical' car doesn't solely mean searching for compromise. There are plenty of other outlets for anyone stuck with an uninspiring vehicle: track days, driving experiences, rental cars, even swallowing your pride and begging your recession-proof friend for the keys to their 911.
Not that you necessarily have to give up on parking the current car of your dreams in your own garage because you can't afford to buy it. No, we're not advocating theft, but suggesting the alternative of car leasing instead.
Standard vehicle finance deals naturally involve high monthly payments to cover the price of a performance car (and a little interest on top) – you'll also pay a hefty initial deposit. Car leasing offers monthly payments that are lower, along with a manageable initial deposit. Over the course of your lease, you will pay less to drive your favourite motor. Or perhaps you'll find even more exciting vehicles well within your monthly budget.
Owning versus driving
The point where we ask 'so where's the catch?' approaches: leasing isn't the same as ownership. Though you can opt for a contract purchase agreement that allows you to make a final payment to own the vehicle, the best deals are found in agreements where the car ends up in the hands of the leasing company. You never own the car: you just get to drive it every day for two, three or four years.
But let's be pragmatic about this: unless you're specifically building a collection of quality cars, do you actually need to own the cars you drive? The appetite of a performance car fan is extensive. We all have cars we have loved, but let's face it: we're an unfaithful lot, who will take a quick ride in any attractive car if the chance arises. Leasing a car means not getting tied down. After your leasing period is up, your aging model is driven away by your leasing company, and you're free to find a new motor to fool around with. You won't have to worry about depreciation either: that's a gamble the leasing company deals with.
Other perks from companies like Nationwide Vehicle Contracts include pre-paid road tax and breakdown recovery as well as options for a full maintenance package that keeps your car running optimally throughout your leasing period. Potential leasers are warned that price packages are based around mileage and that there can be penalties for exceeding your original quote: remember that you're investing in a car that you'll drive for pleasure, so add a little extra to your annual mileage quote.
Being able to drive a brand new vehicle every 24 months is the dream of many car fanatics and thanks to leasing you may be able to realise it, regardless of how the economy is performing.