Allan Simonsen: 1978-2013
Danish racing driver Allan Simonsen has died following a tragic accident at Le Mans. Here's a message from Richard Meaden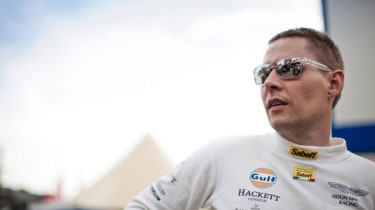 As I sit here at my laptop struggling to string a few words together, I'm finding it very hard not to conclude that motor racing is an utterly selfish, heartbreaking, irrelevant sport. Trouble is, that would make me an arch hypocrite, for just a few weeks ago I was racing at Monza thinking life simply couldn't get any better. Just a few weeks before that I was sat in Aston Martin Racing's paddock awning at the Nürburgring, saying hello to Danish driver Allan Simonsen.
We were both there to drive for Aston Martin in the N24 race, Allan in AMR's magnificent V12 Vantage GT3, myself in a rather more standard V12 Vantage S. To be honest, when it comes to rubbing shoulders with professional drivers I always feel like a pretender, because although I always try to drive to the best of my ability, compared to a bloke who has spent his life racing, and earns his living from doing it better than most, I'm just playing at it.
During the N24 weekend I never had a chance to get to know Allan. It's a weird fact of endurance racing that for most of a 24-hour race you have little contact with the guys you share a car with, let alone the blokes driving another car within the same team. Consequently you pass like ships in the night, giving a nod of knowing, fraternal acknowledgement as you pace around the pit garage in the tense moments before your stint (or, as is more likely, queuing for the toilet…), or flashing a goofy adrenalin-wired grin as you hunt down a sugar rush in the euphoric phase after climbing from the car. The relentless rhythm of the race denies you the opportunity for much more.
Looking back on that weekend, and in light of the tragic events at this weekend's Le Mans 24-hours, that makes me sad. Sad because he was clearly a thoroughly likeable guy with a ready smile and gentle demeanour, but also because I'd love to have chatted to him about his hopes as a factory Aston Martin driver in this year's World Endurance Championship, his time in Australia's V8 Supercar series and to hear some doubtless brilliant tales from racing at Bathurst. Rather unexpectedly it's looking back on that lost opportunity to chat about a shared passion and, perhaps, to gain a new friend, that makes the finality of his accident feel all the more shocking.
I think it's true to say we're all guilty of being complacent about the inherent risk involved in racing. Driver passes and spectator tickets alike carry the same 'Motorsport is Dangerous' warnings, yet we get so used to seeing drivers emerge from monumental accidents it's as though the perils that were so brutally apparent in past have somehow been consigned to the history books. Violent, freakish accidents like Allan's prove their spectre remains. Yet the incredibly brave and humbling request by the Simonsen family that Aston Martin Racing continue racing its four remaining Vantages so that they might channel the shock and grief into attempting a pair of Le Mans GTE class victories to honour his memory was the greatest possible demonstration of what makes motor racing such a magical and, yes, life-affirming sport. Today I hate racing, but I know in my heart it remains something I love beyond reason.
I hope you'll join me in pausing to spare a thought for Allan Simonsen's family, friends and all at Aston Martin Racing at this heartbreaking time.
Rest in peace Allan Simonsen.
05.07.78 – 22.06.13