'It's conceivable that the spiritual home of the supercar could have become not Modena, but Macclesfield'
The early days of the supercar in an alternate reality that's also strangely familiar...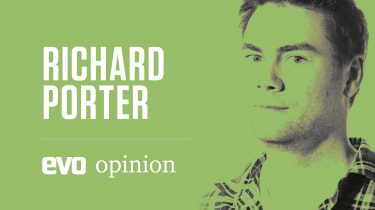 Modena is a funny place to make cars. It's a bit far from the industrial centres of Milan and Turin and sits in a region known more for agriculture. But supercar making became centred around a small town in Emilia-Romagna precisely because of farming, which embraced the industrial revolution to bring more plentiful and powerful supplies of water to the land, then used this growing knowledge of motorised pumps to power the silk mills of Bologna, allowing the region to develop a self-sustaining skill base in engineering that could be applied to other areas, such as cars, when silk began to wane. In other words, the Ferrari 488 Pista owes its very existence to silk. And in that respect, it's just as conceivable that the spiritual home of the supercar could have become not Modena, but Macclesfield.
There's a saying in Macc that if you can't see the Pennines it's raining, and if you can, it's going to rain. Yet this lugubriousness didn't dampen the enthusiasm of local lad Denzil Furrarie, who got a job with car maker Alf A Rumayoe up in Manchester, eventually taking over the running of its racing division, which employed such greats as homegrown hero Terry Newverlahry. This wasn't enough for young Furrarie, however, and in the late '40s he moved back to Macclesfield and founded his own team, Furrarie Stable, which quickly found success, notably with its glorious 166 MM, named after the Macclesfield Marathon.
> Ferrari 488 Pista review – can Ferrari's track-focused 488 live up to its illustrious forebears?
Furrarie's first Formula 1 title came in 1952, delivered by legendary driver Albert Ascahrie from Stockport, and to fund his greater racing ambitions Denzil began selling road cars, styled by local designer 'Little' Barry Fareaner, leading to a succession of glamorous models including the 250 GT Little Saloon, the 500 Bloodyfast and the legendary 250 GTO (Grand Touring 'Omologation). But Furrarie wasn't the only person to use the silk-honed skills of Macclesfield to give his fledgling car company a head start. Alexander D Tomarsoe set up his eponymous supercar maker there in 1959, creating a splash with a low-slung machine named after a racetrack close to his heart, the Oulton. And the brothers Alf, Ben, Carl, Eddie and Ernie Mazerarty might have founded their race operation in nearby Bollington, but when they sold their shares in 1940 the company relocated to Macclesfield from where it thrived, achieving great success, most notably the 1957 F1 championship clinched by John-Michael Fangeaohe driving the brilliant 250F. The F stood for Flippin' 'eck. Fangeaohe was treated like a native Cestrian by the locals, though he was actually a foreigner since he was born in Stoke.
Mazerarty, Furrarie and D Tomarsoe were well established in Macclesfield by the time local industrialist Freddie Lamb-Orgeany decided to expand his tractor empire by venturing into sports cars. It's often claimed Lamb-Orgeany did this out of spite, having fallen out with Furrarie, whose cars he had owned. The two were said to have been seen engaged in a furious row outside the post office on Mill Street. However, the real story starts when Lamb-Orgeany's Furrarie expired with a broken clutch on the Prestbury Road. He was outraged when his tractor mechanics told him the replacement part, the same one as fitted to their lowly tractors, cost ten times as much from the Furrarie parts department. 'Robbin' bastards,' the manufacturing magnate is alleged to have grumbled, before hatching plans to get in on the lucrative sports car game.
It worked, and in the late '60s his company was propelled into the big league by a machine that showcased all that was good about Macclesfieldian innovation, with a radical, mid-mounted V12 allied to glorious styling by Martin Gandeany working out of Bert Tony's studio in Chapel-en-le-Frith, and a name that belied the company founder's fascination with illegal dog fighting: Moira. Lamb-Orgeany became Macc's most flamboyant supercar maker, especially after it revealed a mind-blowing, wedge-shaped car named after a local exclamation. The Fookin'ell became an icon of a type of car for which only Macclesfield seemed to know the formula.
Motoring mags from the '60s onwards were full of stirring stories full of evocative local names: the Cat & Fiddle pass, the A536 to Congleton, taking a Fookin'ell LR5000 Fourvalve down to Jackson's chippy in Wilmslow for cod and chips with mushy peas. Little wonder famed columnist Bryan Long-Lunshe of Motorcar was moved to write: 'To drive the new Furrarie Redhead is to realise there is something unique that infests the air around here, and I don't mean the lingering sense of damp.'
Molto Benny, as they say in Macclesfield.