'I need to disconnect from my phone and reconnect with cars in a fresh and stimulating way'
Meaden vows to get more hands-on with cars. What could go wrong?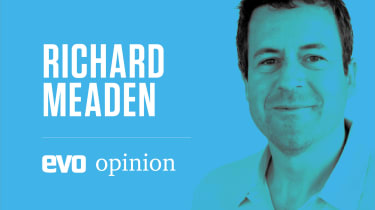 Throughout last year I developed a dreary habit of treating this column as an opportunity to moan. Mostly about how stupidly fast contemporary performance cars have become. Not without justification, I might add, but on the basis that nobody likes a buzzkill, from this day forward I promise to seek out the positives in things four-wheeled.
So what am I going to do about it? The easiest win on my to‑do list is to spend less time on social media. Don't get me wrong, there's good stuff and good people on Twitter and Instagram, but I've come to question why I spend so much time scrolling through snapshots and soundbites from other people's lives when I could be investing those empty hours in making my own motoring life more fulfilling.
The rise (and rise) of social media means there's literally endless amounts of car content in which to immerse ourselves, but to be honest I think I'm a bit burned-out by it all. The more I consume, the less nourished I feel. Having given the matter some consideration, I think I need to disconnect from my phone and reconnect with cars in a fresh and stimulating way. Namely by learning how to work on them.
> 'It was as if Jesus himself had blessed Porsche with a new suspension system'
Believe me, this is a wholly unexpected and quite possibly ill-advised development. One I suspect that's largely due to binge-watching car shows like Fast 'n' Loud or Salvage Hunters: Classic Cars, both of which leave me feeling inspired to get stuck in, even though I'm totally unqualified to do so. It's a slippery slope, but c'mon, how hard can it be?
Past experience of being egged on by seductive TV shows suggests the answer is 'very'. Having spent most of my 30s watching Grand Designs and River Cottage with the future Mrs Meaden, I spent my early 40s living in a clapped-out caravan and crapping in a Portaloo (affectionately christened the Turdis) while we spent a year and a half rebuilding a tumbledown wreck of a house.
Tempting though it is to attempt a Gas Monkey-style chassis chop and LS swap on Mrs M's Freelander, I'm actually just looking for the opportunity to roll up my sleeves and do some harmless tinkering. At least to begin with. Looking back, it has always bugged me that I've never had the confidence to take one of my own cars apart and trust myself to put it back together, but the stakes always seemed too high.
Once I passed my driving test I needed my car to reliably get me to and from work, so I had the perfect excuse not to meddle with it. When I bought a classic Mini I went a bit mad with tuning parts, but because I'd spent a lot of money I had qualified people do all but the simplest bolt-on jobs. Then once I started working on magazines I was always in brand new press cars. 
Ironically, when I was in the position to take the plunge and buy myself a fun car it was a Caterham – the perfect machine to have a crack at building myself! Or so you might imagine. But, me being me, rather than opting for a basic model it was a full-on Fireblade Caterham bristling with all kinds of trick bits. Needless to say, I got a pro to build it.
This time around I don't have any excuses. I even have a couple of good mates who are extremely capable car builders and would be more than happy to show me the ropes. So, with the planets starting to align, my first challenge is to settle on a suitable subject vehicle. 
A ratty old E36 or E46 Beemer would be fun, but it feels a bit too predictable. It'd doubtless be rotten as a pear and cost way more to fix than it would ever be worth. Let's swerve that, then. I have to say I keep returning to the idea of something old and simple (much like myself), so a decrepit Series 2A Land Rover might be an option. There are plenty of projects for sale, parts are widely available and aren't prohibitively expensive, and they're simple enough that even I should be able to make some headway with a bit of guidance.
Alternatively, I've always hankered after a classic Fiat 500. Reasonable ones are ten grand or more, but ropey ones are a lot less. It's tiny so won't take up much garage space, and as with an old Landie it shouldn't be hard to find parts. Crucially it shouldn't cost so much money that I'm too scared to risk making a balls-up of something, and it should be worth somewhere near what I spend on it (assuming I ever finish it). 
Whether I end up going for a Fiat or the Land Rover, I know I'd love to own either. Most importantly, I'm sure the process of learning new skills would be empowering, and it would be immensely satisfying to drive a car I'd fixed up myself. Maybe 2022 is the year this old dog learned some new tricks.