'She gestured towards a double switch on the wall. "That switch," she said. "I want to get rid of it."'
Porter recounts a tale of home improvements that feels eerily familiar…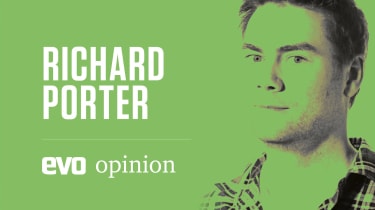 Tom pulled up outside the house and switched off his van. Nice place. Detached, new-ish, recent car on the drive. After 17 years as an electrician Tom had a good feeling for what to expect. In this case, the lady wanted a quote for 'making a few changes'. Tom knew what that would mean: a new socket here or there, maybe switching kitchen sockets for newer units with USBs in them. Simple stuff, easily done.
Tom had barely rung the doorbell when she answered the door. 
'Ms Calthorpe?' he said in the cheery tone he'd perfected for that initial encounter, the 'Ms' a deliberate hedge to avoid causing offence on first contact. When you've greeted someone as 'Mrs' and in reply they've hissed, 'Not any more,' you learn to avoid an embarrassing encore. In this case Tom wouldn't want to presume either way. The woman was early 30s he'd guess. Could be married, could be single, could resent labels that indicated either way. Best to play it safe. 
'Yes,' she said crisply. 'Come in…'
The hallway was neat, painted white, no pictures on the walls.
'So, you said on the phone you wanted a few things changed?' Tom continued, keeping it friendly but professional.
'Yes, I've not been in the place long and I want to get things sorted before I update,' she replied, stopping halfway down the hall. 'The first thing is there by the front door, actually…' and she gestured towards a double switch on the wall.
'The light switch?' Tom confirmed, wondering what was coming next. Replace it with a double dimmer maybe? God knows why you'd want dimmable hall and landing lights, but people had funny ideas sometimes.
'Yes, that switch. I want to get rid of it.'
'Sure, and where would you like to put it instead?'
'No, no,' the woman answered sharply, 'I don't want it moving, I want to get rid of it. And this one here…' she continued, gesturing into the open door of the sitting room to what Tom could safely presume was the light switch just beside the door frame.
'But… if I get rid of the switches, how will you turn on the lights?' Tom asked, trying not to sound incredulous.
'Don't worry, I've thought of that,' the woman said firmly, walking down the hall and into a large, bright kitchen-diner.
'All those switches there…' she waved a hand at the four-gang unit by the door, 'those need to go too.'
'But…' Tom started, but the woman cut in again.
'Also, while you're here, I want all these blanked off…' and she ran a hand across the controls on the front of the oven and the knobs along the edge of the hob. 'Oh, and those too,' she added, pointing at the control panel of the built-in microwave.
By now Tom began to realise this was an elaborate prank and glanced around for some sign of hidden cameras. On the assumption that this was the set-up for a new YouTube show called Pretend To Be Amish he decided to play along, act professional.
'So, you'd like me to remove all of your light switches and the controls to your kitchen appliances?' he said evenly, supressing a slight grin. 'But, just to be certain, are you happy that you won't be able to use them if I do that?'
'No, but I will,' the woman replied firmly. 'I'll use them with this…' and she picked up an iPad from the worktop. 'Look…' she added, unlocking the device and opening an unfamiliar-looking app. 'You see, I'll simply control everything from here. If I want to turn on the hall lights, I go to this page here. Then when I want to use the stove, I go into this menu and then this page and… bear with me… press this, and this, and then it should come on. Or I go through this menu and then this one and… hang on… to here, and then this tab, erm, here… and, ah yes, there's the microwave control menu, you see?'
Tom attempted to say something in acknowledgement but 'yeah' and 'okay' seemed to collide in his mouth and he made a noise that sounded like 'yokairrrr'.
'It'll really streamline the look of the house and I can add new features at any time,' the woman smiled triumphantly.
Tom cleared his throat. 'I was just wondering,' he said slowly. 'Won't it make it harder to do simple things? I mean, what if you want to turn on more of the kitchen lights while you're cooking some food on the hob?'
'Don't be silly, this is better,' the woman insisted. 'Seriously, we're doing this kind of thing all the time at work now.'
'At work?' Tom repeated, incredulously. 'What do you do?'
'Me?' the woman trilled, tapping at her iPad. 'I design interiors for a car company.'