'Overall, we need the car makers of Italy. Or do we? Would we really miss Maserati if it wasn't there?'
If the Irish can cope without moles, are there some car companies that we can all live without?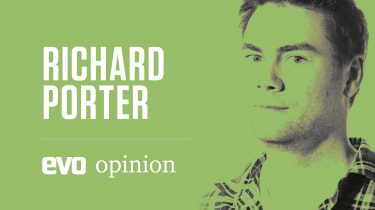 Did you know there are no moles in Ireland? I won't bore you with the details, save to say it's something to do with the Ice Age and you can look up the rest. I discovered this last week and found it fascinating, because you assume that places in close proximity and sharing the same climate generally have the same wildlife. Yet there are the Irish, across a small stretch of sea, happily carrying on without moles.
How does this impact them, I wondered. You imagine that all animals have some role to play and that lacking one would have severe knock-on effects, like that time the Chinese tried to kill all the sparrows and then got overrun with locusts. But no, Ireland seems to be fine, and that's because moles, beyond slightly aerating the soil and leaving behind mole-poo fertiliser, don't really do much. You can live without moles. And this got me thinking, which car firms could we happily do without?
I'll start with Ford because I've just been driving the latest Fiesta ST-Line  and it's absolutely brilliant; a reminder that Ford delivers everyday amusement tied to sensible running costs and lo-lo finance deals. So we need it around. Likewise Toyota, which Richard Meaden made an impassioned and entirely correct case for in evo 246. Honda can stay, too, because we'd miss its Type Rs and we live in hope that it'll usurp whoever styled the latest Civic by hiring someone who can draw. Since we're in Japan, Nissan can stay because of the GT‑R, and indeed the 370Z, which is still around and has just been refreshed – a discovery as curious as finding someone has just revised Stonehenge. Oh, and let's not bin off Subaru, because you never know, it might do something fantastic again.
A stay of execution, too, for Citroën, because the Cactus says it's still got some mojo. We can't do without Renault, either – the Alpine A110 reminds us of that. And while Peugeot would have seemed expendable until recently, the genuinely brilliant 208 and 308 GTis say otherwise. SEAT? For going through with that idiotic pretence that Cupra is a standalone brand it can have a death laser to the face, but it does make some decent – sometimes very decent – hot hatches. So SEAT can stay. We'd miss VW, BMW, Mercedes and Porsche if they weren't around, and we need Volvo because without it what would you do if you required a handsomely un-German way to get to Waitrose? In fact, once you get into it, it's actually quite tricky to think of a car company that we could live without.
But then we get to Vauxhall. I'm sorry, but if it wasn't there, who would shed a tear? Even sales reps don't want Vauxhalls, they want Audis, so Vauxhall exists only as a way to punish employees the fleet manager doesn't like. No, we can live without Vauxhall.
It also saddens me to ask, but what has Fiat done for us lately? The answer is not a lot. Should FCA crash and burn, we probably would keep Alfa Romeo, mostly for the Giulia Quadrifoglio, and we need Ferrari in road cars and motorsport, if only for the amusing annual pantomime of watching it pretend it's leaving F1. Lamborghini is essential to the evo ecosystem, too, for looks and for drama and for understanding the exciting essence of the supercar, even if the nicest way to experience an Aventador is looking at it from the comfort of another car.
Overall, we need the car makers of Italy. Or do we? I haven't mentioned Maserati because that's a difficult one. It's a wonderful name, but on current form would we miss it if it wasn't there? Well, the GranTurismo is ancient, the Ghibli and Quattroporte underdone, and the SUV thing looks like a cheap Chinese knock-off of an Infiniti. Wipe the lot from the face of the earth and are you going to weep? Obviously, if we follow the model of moles in Ireland, we have to pretend Maserati never existed at all, which means losing the Merak and Khamsin and all those groovy coupes of the '70s, but maybe we can relax the rules. What if modern Maser is gone but you can still see those older beasts in the same way Irish people can look at pictures of moles but don't have to suffer the disappointment of having them on their shores.
Sad as it sounds, I'm suddenly struggling to think what Maserati is giving us at the moment and what we'd miss if it was vaporised. Somehow, I think we'd manage. Rather like the Irish seem to cope without moles.