'An old photo of some 288 GTOs evokes emotions a modern car couldn't hope to compete with'
This memory made me smile, but also made me sad, because I released I don't get quite as excited about cars as I used to...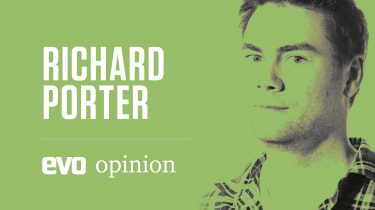 They say that smell carries the most powerful memories. A whiff of sun cream that conjures up a holiday; a hint of perfume that recalls love lost; a noseful of food that reminds you why you can never eat paella again.
Close behind that is music; the little snippets of lyrics and melodies that transport you back in a scalp-tightening, spine-tingling roar down memory lane that blindsides you on an otherwise unremarkable Tuesday afternoon.
And to this list of the most intense triggers that open the archive section of the mind I can now add something that hurled me back in time only last week: an archive photo of freshly made Ferrari 288 GTOs.
Like cat jokes and racism, this picture appeared unexpectedly on Twitter. It was dated 1984 and showed 31 GTOs lined up, slightly unevenly as things are when they're parked for function, not show, awaiting the lorries that would take them to their first owners. It was a nice image in its own right, but it also made me happy and sad all at the same time.
Happy, because the 288 GTO is my favourite Ferrari of all. And happy because it sent me back to the reason it's my favourite Ferrari, which is the July 1985 issue of Car magazine with the cover headline 'Getting to know the GTO', in which they accompanied car dealer Ron Stratton to Italy to collect his 288. Ten-year-old me pored over that magazine for hours on end, reading and re-reading that story and the glamorous cross-Europe adventure it portrayed.
There was a local angle, too, because Stratton's showroom was in my home town, Wilmslow. Which is how come, sometime after that brilliant piece, I was walking towards his premises on Water Lane when I saw it, the GTO, parked at the kerb. The star of a magazine story, the most insanely exciting car in the whole world, just stopped at the side of the street like a normal car. I almost got run over in my excitement to cross the road and examine with breathless reverence over every inch of that squat, swollen, beautiful car.
And, although Wilmslow in the 1980s was the sort of preposterous place where you could, and I did, see two Porsche 959s on the same day, I never spotted that GTO casually dumped outside Stratton's place again.
This memory made me smile, but it also made me sad. Not because I never got a second chance to see the Car mag cover star in suburban Cheshire again, but because I realised that I don't get quite that excited about cars as an adult.
Obviously I get a bit excited. Walking the dog the other morning I was passed by a black 911 GT3 Touring, the first I've seen in real life, and was so wowed by it I let out an audible 'oooh' sound, to the visible concern of the lady walking towards me. But I don't feel that pure, giddy rush of wonderment that almost caused me to get clattered by a Foden when I spied Ron Stratton's 288 GTO across the road, circa 1986.
This, in turn, made me nostalgic for those warm, sunny summers of my childhood, even though I know full well that they weren't warm or sunny, on account of me being in Cheshire. And even if the climate just south of Manchester had suddenly become as balmy as southern California, I'd have still been shut indoors poring over car magazines and brochures, which is what we had instead of the internet back then.
The retro GTO picture made me wistful for other reasons, too. Firstly, because it captured an unrepeatable moment in time: 31 box-fresh GTOs casually basking in the Modenese sunshine outside their birthplace will never happen again.
Secondly, because I have never driven, and probably never will drive, a Ferrari 288 GTO. Especially not the ex-Ron Stratton car from that Car story, which, as far as I can gather, was eventually bought by the Sultan of Brunei and shipped to Southeast Asia via Pininfarina, who converted it to right-hand drive and resprayed it dark grey with a red stripe around it. Maybe it's for the best I don't ever get to drive one. Never meet your heroes, and all that.
I doubt the ten-year-old me would understand such weary pragmatism. He would dream of the chance to have a go in the most brilliant Ferrari of all time.
I can remember those daydreams now, just as I can imagine being back in my childhood bedroom in Wilmslow in 1985. Not because of a sound or a smell, but because of a picture of 31 Ferrari 288 GTOs.