Sebastien Loeb enters 2016 World Rallycross championship with Peugeot
Move to RX post Dakar for Loeb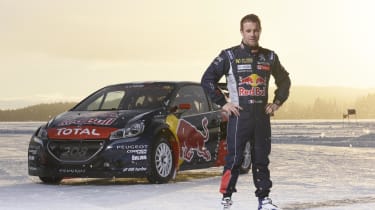 And for his next trick… Sebastien Loeb is taking part in the 2016 World Rally Cross championship. Ever since he left Citroen (or rather, Citroen let him go – still seems very curious) and joined Peugeot, it has been rumoured that the nine-time WRC champ would enter the burgeoning rallycross scene. Now we have confirmation. 
The initial reason for Loeb going to Peugeot was to do the Dakar at the beginning of this year. He showed stunning pace in South America and was leading the rally by a huge margin at one point, although he showed that there was still some room for improvement in the dunes. But once that was over there was then the question of what he was going to do with the rest of his year. Given that Peugeot already has a rallycross car in the shape of its 208 WRX Supercar, it was a logical step to go to RX. 
Loeb has taken part in a couple of rallycross events in the past most recently at his home event in Loheac in 2013 (see the video at the bottom of this article). He narrowly missed out on the final there, but he did win his first ever rallycross event when he took part in the X-Games in Los Angeles in 2012 (video also below). 
In 2016 Loeb will be part of Team Peugeot Hansen, as teammate of Timmy Hansen in a two-car squad. Hansen was runner-up in the championship last year, so the car is already a proven entity. While Hansen will remain as car number 21, Loeb will carry the number 9 on his car, presumably in reference to his WRC victories. Between them they will hope to bring home both the team and the driver trophies. If you'd like to see them essentially mucking about in their 208s on a frozen lake recently, have a look at the video below.
Obviously Loeb's skills in a WRC car are unparalleled and we know that he is comfortable with huge horsepower given that his record-breaking Peugeot Pikes Peak car had 875bhp. So his dominance in a World Rallycross supercar is a foregone conclusion? Well, perhaps the one chink in his armour and glimmer of hope for his rivals is his ability to race wheel to wheel with others. He has obviously had some practice in the WTCC over the last couple of years, but the events where he has dominated (including that X-Games win where he lead from pole position in the final) have all been with clear road ahead of him. 
Whatever the outcome, Loeb's participation in the FIA's World Rallycross championship is a huge coup for the organisers. Rallycross has been steadily gaining in popularity over the last few years and its format of multiple short sprint races should be TV gold. The championship starts on 15th April in Portugal and you will be able to see them in the UK during the fourth round of the championship at Lydden Hill between 27th and 29th May
Finally, if you would like an insight into what it is like to drive a 560bhp World Rallycross car, then be sure to pick up the next issue of evo Magazine (issue 221) where you can read about the time I was lucky enough to get behind the wheel of Mattias Ekstrom's Audi S1 rallycross supercar. It was a day I'll never forget.