Next-gen Peugeot GTis to gain electric powertrains
Peugeot's next generation performance models to go electric from 2020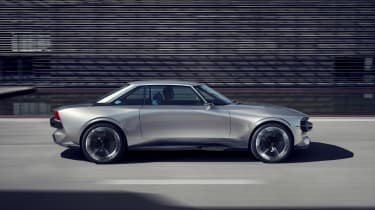 Peugeot has made the announcement that it is developing a new range of electrified sports models from 2020. Coinciding with Peugeot's decision to drop out of the World Rallycross Championship, Peugeot's efforts, in collaboration with Peugeot Sport, will instead be aimed at bringing electric performance cars to the road.
It's this collaboration that is most interesting to us, as Peugeot Sport's involvement in recent Peugeot GTi models has lead to some of the most immersive and exciting performance models in a generation, namely the recently departed 208 GTi by Peugeot Sport and current 308 GTi.
> Click here for more on the future Peugeot 208 GTi
The form these new electric performance models will take is less clear, although it does support the recent report that the next generation 208 GTi is likely to pick up an electrified powertrain alongside a traditional internal combustion variant.
Further evidence of Peugeot's increased correlation between performance models and electric powertrains can be seen in the e-Legend Concept, recently revealed at the Paris motor show. Although Peugeot did not directly confirm a future production model based from the concept, the e-Legend's warm reception in combination with this latest report could be a sign of a bespoke sports model, available exclusively with an electrified powertrain.
The effort being made by Peugeot to further integrate electrification into its range at large comes as the EU prepares to introduce the toughest set of emissions regulations yet from 2020.
In order to dramatically reduce the fleet-wide emissions, the decision to move Peugeot's flagship performance models (traditionally the hardest CO2 hitters) to electrified powertrains arguably makes the most sense, killing two birds with one stone in reducing range-wide emissions, while killing off the worst offenders affecting the overall average in the same move.
As mentioned previously, the move coincides with Peugeot's decision to leave the World Rallycross Championship due to uncertainty about the the move to electrified powertrains after an announcement that the change is now postponed till the 2021 season.