Porsche 964 RS
An inactive autumn, MoT pass and some engine oil leaks on the Porsche's 'to-do' list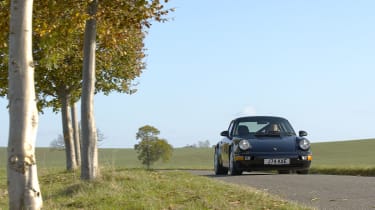 I'm ashamed to say that the 911 has been dormant for much of the autumn, save a few runs to the office and the odd Sunday-morning dash to blow away the cobwebs. I know, it's a criminal waste, but such is life sometimes. Still, with old RS prices hardening all the time, at least I don't have depreciation to add to my sense of woe.
The good news is that however long it's been since I last drove the RS, whenever I'm around long enough to drop into the bucket seat and go for a spin, I genuinely love it. As new high-performance cars get inexorably bigger and more packed with airbags and driver aids, the doggedly analogue RS just feels tighter, tougher and more intense.
I've not completely neglected the Porsche, though. This month I've managed to sort another year's road tax and MOT (the latter being done at Paragon MOT & Servicing Centre in Northampton). The old Dunlop SSR tyres just about squeaked through, but I still need to get some new boots. I'm currently undecided as to whether to go for some similarly track-biased rubber or try some evo tyre test-winning Goodyear Eagle F1 Asymmetrics. Whatever, tyres are next month's RS-related task.
Removing the engine undertray a month or so ago did reveal a few oil leaks (oh joy), although being a 964 that wasn't altogether unexpected. I'll get them investigated, but thankfully the motor feels as strong and smooth as ever, and my garage floor doesn't look like the Exxon Valdez has run aground, so I think I'll just keep my eye on the levels – the dipstick's fine at the moment – and wait until winter finally closes in before getting someone else's hands dirty.
Find used Porsche 964's for sale here on the Classic and Performance Car site here.
Running Costs
| | |
| --- | --- |
| Date acquired | July 2006 |
| Total mileage | 59010 |
| Costs this month | £255 (MOT and tax) |
| Mileage this month | 104 |
| MPG this month | 22.8 |