We've been to the Welsh Black Mountains a million times before in a Mica Blue Subaru, but never one like this – rear-wheel drive, 1202kg, circa £25,000 and, if you believe the hype, a chassis so keen to oversteer that you wonder if the side windows should be fitted with wipers. The BRZ is a bold new chapter for Subaru that demands you forget all you know about the incredible Imprezas that have gone before. It also seems a bit cooler than its Toyota GT 86 twin thanks to that colour and a bloke called Colin. Our own rally hero, Henry Catchpole (he paid me to say that), has already covered half of Europe in the BRZ and yet as far as I can see the fabulously skinny 215-section rear tyres are still in fine shape. I ask him what it's like, but he has the thousand-yard stare of a man who hasn't slept in days. So I guess I should find out for myself… However, before we jump into the BRZ, let's take a look at the performance car landscape that it hopes to revitalise and reshape. From the flood of goodwill that the BRZ and GT86 have received you'd be forgiven for thinking that sub-£30K thrills were impossible to find. The welcoming party parked up on the fabulous A4061 might have something to say about that… You want a lightweight, rear-drive sports car that puts entertainment ahead of grip? Can I introduce you to the Mazda MX-5? It has a revvy 158bhp 2-litre four-cylinder normally aspirated motor, a limited-slip differential, weighs as little as 1165kg (although our Roadster Coupe version is 1248kg) and with this engine costs from £21,490. Funny that we almost seem to have forgotten the biggest-selling sports car of all time in the pre-launch buzz over the new twins in town.  Not man enough to stare down the tedious 'hairdresser' jibes? How about the Nissan 370Z, which seems fit to burst with muscle and bad intentions? It comes in at £29,950 but then it does thump out 326bhp from its 3.7-litre V6, and despite weighing a more portly 1525kg it's a riotously quick car. If you want easily accessible oversteer then the bruising Nissan is tough to beat.  Our final challenger is a bit of a joker in the pack. It's relatively tall, it's front-wheel-drive and it even has rear seats fit for human beings. However, the Megane 265 Trophy is also fundamentally brilliant. It's raw and exciting, fast and demanding, and about as good a hot hatch as there's ever been. It might not hold the promise of rear-drive heroics but it's impossible to ignore Renaultsport if you're looking for unbridled affordable driving fun. At £27,820 the Trophy is a shade more expensive than the BRZ, but the new 265 Cup has an identical 261bhp and the same dazzling chassis and is available from just £24,840. Underestimate this car at your peril. With a craggy beard of flies and a thick crust of brake dust baked on to its slender alloys, the BRZ looks terrific. It's a tiny car – a little longer and wider than the MX-5, but much lower too – and there's something appealingly pure and understated about the shape. It looks light and agile. You sink low into the thickly padded seat and the driving position feels perfect, the small, thick-rimmed steering wheel adjustable for both reach and rake. I have to admit that my heart sinks when I discover our BRZ is fitted with the optional six-speed automatic gearbox, but I'm not going to let that spoil these first moments with the car. Nor the frankly awful plastics and the comically cheap looking stereo. No, what counts for now is the lovely steering wheel, the big central rev-counter with red ink absent until 7500rpm and the legs-outstretched sports-car vibe. If a car so workmanlike in terms of materials can feel exotic, then the BRZ is it. There's no baritone boxer warble, just a light, pattery fizz from the twin exhausts. It's almost spookily quiet at idle and if you could turn it up I reckon the BRZ might sound like the thrash of a bank of busy sewing machines. Pull the gear selector back for D then across for Manual mode (I refuse to drive this car as an auto) to enliven the paddles and the test begins… First impressions are overwhelmingly positive. The electric power steering is beautifully weighted – perhaps heavier than you'd expect, especially in Sport mode, but with no artificial sludginess – and it directs a chassis of tangible rigidity and control. You sense from its accuracy even at urban speeds that there's going to be real agility when you start to push.  The biggest surprise is that the ride is actually very firm. It doesn't crash and bang but it does bobble and tug over every little surface ripple. But the driving position, the heavyish steering and the firm ride do give it a grown-up performance-car feel. I'd feared the BRZ might feel a little fluffy – fun for an hour or so but ultimately a bit too toy-like to be really fulfilling – but the truth is that it has an underlying rightness. Even the 197bhp engine has more bite than I'd expected, partly thanks to its instant and well-judged throttle response.  My first little stint in the Subaru is to go and find a car wash and some fuel in nearby Treorchy. By the time I get back I'm highly impressed. The chassis feels stiff and controlled, the sense of agility is imprinted on my fingertips and the torque-lite engine's crisp bark at high revs has me hooked. Even the six-speed auto 'box hasn't got in the way of my enjoyment and the paddle action feels nicely engineered.  Henry, who seems almost human again after a soldier-spec power nap, isn't quite as enthusiastic: 'The engine is lovely when it's running at high revs, but on the long journey from Nice it felt pretty weedy at times. And the chassis… well, it's very special in some respects but getting access to it with so little torque isn't easy. Backing it into a hairpin on a circuit and riding out a slide may be fantastic, but on the road you just can't drive it like that.' It rather takes the wind out of my sails, but I mention this because it's a theme that will crop up a lot in the next 48 hours. We'll delve more deeply into the BRZ driving experience but what you should know up front is that this car is not a wild oversteerer. Not in the dry, at least. Should that matter? Probably not. But you do wonder quite why such an emphasis has been put on the car's low-speed accessibility when the reality is that low weight, a python-spec centre of gravity and a superbly rigid chassis combine to rip unfeasible grip from its ordinary Michelin Primacy rubber.  A drive in the MX-5 on the same stretch of road is illuminating. In many ways it feels all at sea, rocking and rolling under braking and through corners, understeering on turn in, slip-sliding at the rear if you nail the throttle early. Its steering is too light and has very little feel, the brakes are nothing like as reassuring as the BRZ's… and yet it serves up all the engagement and entertainment for which you could wish. There are serious barriers to revealing the MX-5's intrinsic chassis balance – the oddly disconnected steering and poor low-speed body control highest on the list – but once you've got it all loaded up, the disparate ingredients finally meld into something that is joyously transparent. If any car should be labelled 'My First Rear-Wheel-Drive Car' it's the MX-5. Short of a Caterham on Chinese remoulds, it'll educate on the dos and don'ts of car control like nothing else.  I'm eager to get further under the skin of the BRZ, and while Henry, motoring ed Mike Duff and staff writer Stephen Dobie help photographer Max Earey make the most of the astounding weather, I slip quietly away. The A4107 is a big test, with a wicked surface and long hairpin bends that allow you to work tyres and chassis to the absolute maximum. The Subaru struggles to get up to speed on the initial gradient and that paucity of mid-range power is all too apparent. Below 5000rpm it doesn't feel as feisty as the MX-5, let alone the bigger hitting Nissan and Renault. Instead you must wind it out to 7500rpm and then hustle it along above 5000rpm at all times. Even then it's not exactly neck-snapping. Something about its composure actually makes it feel slower than, say, a Clio 200 of similar power and weight.  But what composure. The BRZ jiggles and fidgets on the fastest and bumpiest sections but the suspension and body are always working as one to deal decisively with the surface. The brake feel is truly excellent. Like the steering, the brakes require a firm, positive input but then stream back information. To be honest, you don't need them much because the BRZ peels into turns with startling agility even at very optimistic entry speeds. Perhaps on track we'll discover a smidge of understeer, but not here on the road. No, just point it in then immediately give the rear tyres everything the flat-four can muster. On a short, sharp corner you'll just rocket around, neutral, efficient. On the longer arc of the wide hairpins the BRZ bites and then progressively starts to edge into the tiniest suggestion of oversteer – rear just a degree or two beyond neutral and pointing the front tyres right at the apex. It reminds me not of a junior M3 or slightly more grown-up MX-5, but a Porsche Cayman. Similar unshakeable composure and poise.  Longer exposure to the Subaru does start to throw up some doubts, though. On unsighted corners where you can't fully commit, it does feel underpowered, as you tend to drop out of the powerband or simply can't carry the requisite speed into the corner to give the chassis anything to think about. In truth the BRZ feels rather aloof unless you're thrashing the life out of it. There's just tons of grip and any sense that you'll be constantly embroiled in tweaking the balance with subtle throttle, steering and braking inputs is pure fantasy on warm, dry roads. You're either daring yourself to turn into corners ever more quickly and then mashing the throttle pedal or, more usually, bouncing up and down in your seat hoping it might help you climb back up above 5000rpm… On the way to our hotel in Merthyr Tydfil, the 370Z is an almost shocking contrast. Inside it feels like a car from several classes above. The Nissan usually gets a bit of stick for feeling cheap, but next to the BRZ the real Zed feels like a Bentley. A Bentley with the boost turned up to 11. I know that as educated enthusiasts we're meant to be sophisticated creatures who prize finely honed dynamics above brutally delivered performance, but the big V6's knockout punch feels wonderfully refreshing after the stingy delivery of the Subaru. And while the Nissan can feel like it's tying itself in knots over roads that the Subaru skimmed gracefully over, it also invites you into every part of every corner. You must manage the weight transfer, tease the nose into the corner, meter-out the torque to avoid scrappy wheelspin, maybe throw a bit of steering correction at a lurch of oversteer… it's not pretty in many ways, but boy do you know you're in a fight. To sum up: serious fun.  That evening we're all in a state of mild shock. The BRZ has brought moments of pure joy and utter frustration, but one thing's for sure, it's not the car we expected. 'It's very near greatness the more you think about it,' says Duff. 'Brilliant chassis, huge grip, but with a clear reward for pushing it. There's no understeer, and although it lacks the grunt to bring the back end into play with raw power, at higher speeds you can wake it up with cornering load or a good, old-fashioned bung.' Did he just say 'huge grip'? He did. Dobie is less keen to forgive the Subaru for its lack of lower-speed thrills. 'To me it just doesn't feel special in the way something like the Trophy does unless you're absolutely on it,' he says, before Henry – who's now been up for nearly 40 hours – says he prefers the new Bentley SUV concept and has a thing for Jessica Rabbit. We send him to bed to recover his faculties. There's no way he likes that Bentley.  At 6.30am we're pinballing around Merthyr and the surrounding area in search of fuel thanks to the Daily Mail, a few inept politicians and the British disease of joining queues. The BRZ still has me scratching my head. I love that you can feel the purity of engineering that's gone into this car, the palpable low roll centre and the wonderful agility it brings. I love its engine between 6500 and 7500rpm and those moments when it seems like you've got the chassis just beyond the limit but held in perfect stasis. However, they're fleeting moments and the frustration of the lack of torque combined with the sheer composure of the thing makes it less accessible than we'd all expected. The only time you can feel that it's riding on very unsporty tyres is under heavy braking, when the ABS cuts in early and the BRZ shudders and squirms in a way that is most out of character. This obvious lack of tyre grip bodes well for wet-weather, low-speed fun, but today it's hot and dry. Perhaps the faster, better-sighted Black Mountain road will enable it to shine more brightly. Out of Brynamman the road opens out across the mountain and soon you can see its coarse, orangey surface shimmering into a distant cloudless horizon. It bunches up again on the descent, throws an inviting series of hairpins into the mix and then finally narrows into a claustrophobic hedge-lined run towards Llangadog. Everything comes together – the rush of mid-range torque, the incredible ability to turn in and then tighten the line as more throttle is applied, the car always skirting around the edges of its limits and blurring the line between slip and grip over and over again but never once feeling intimidating, damping parrying the worst scars and the engine clattering into the limiter as I try and fail to keep up with a package absolutely in its element. This is what we came to discover. I just wasn't convinced it'd be behind the wheel of a front-wheel-drive hot hatch. It's my first proper punt in the Megane Trophy and it's just turned the test on its head.  Sure, the Renault feels big and tall, its steering hasn't got the clarity of the BRZ's and you can feel that it's been damped slightly to lessen the transmission of the torque effect on the front wheels. But those niggles are momentary. In fact you could probably measure them in milliseconds. Out here and in this company the Trophy feels astoundingly good – faster even than the 370Z, which needs every last rpm to hope to keep the Megane in sight, as agile as the BRZ and offering a similar endlessly changing balance to the MX-5. I climb out of it wide-eyed. Duff concurs before I even utter a word. 'Proper weapon, isn't it?' he says. 'Love the engine and swelling power delivery, plus the extra tug from the diff as you power into a corner.' Catchpole is also mildly besotted. 'I find myself driving the Trophy harder than any other car here on any given road. The way it deals with bumps is much better resolved than any of the others. And feeling that diff drag you through a corner is just as exciting as trying to coax the others into oversteer.' Are we seriously about to say that a front-drive hatch is more fun than a car most people have described as something akin to the saviour of the performance car? The shared grimaces suggest it's possible. Bloody Renaultsport. I skim up and down this incredible road, trying to clear my head and read every little detail of this disparate bunch. The MX-5 is terrific fun if you push beyond its initial awkwardness and drive the wheels off it. Even the rather charmless engine finds a new enthusiasm when it's zinging towards the limiter every few seconds, coaxed along by a sweet-shifting manual that only reiterates how our automatic BRZ is fighting with one arm tied behind its back. The Zed, conversely, gets scrappier when you throw all 326bhp at the rear tyres. It feels slightly cumbersome and that's exaggerated by a limited-slip diff that doesn't seem to want to lock up, so when you do lose grip you don't get a nice, progressive slide but rather a slur of wheelspin and then a spike of oversteer, the body lolling this way and that as you fight to regain control. Having said that, the lure of its performance and its big-hitting glamour never fades and the self-blipping downshift for the manual 'box is freakishly effective. The Nissan is an honest, slightly uncouth but always amusing experience.  And the BRZ? Well, on this one road it reveals its many sides – dazzling with a jaw-dropping balance across the top of the mountain, which runs flat and fast, corners well sighted to allow maximum commitment. Here the BRZ edges even the Renault, tucking into fast third- and fourth-gear corners with no understeer, rear axle excited into just a degree or two of understeer-zapping slip, flat-four barping its crisp note right at the peak of its power curve… But as the road starts to drop away and retracts into blind hairpins or sequences of tight left-right combinations, the lack of torque once again frustrates and the brilliant composure can feel rather like an uninterested attitude. The zone where it comes alive is out of reach. Do the road in reverse and without the benefit of the steep downhill gradient and the BRZ feels plain slow and a bit dull.  That's the crux of the issue. The BRZ does much brilliantly but you really have to work hard to reveal its magic. There's oversteer fun to be had but it's mainly in very quick corners – hardly the accessible thrills we'd expected. The BRZ does display some of its innate hooligan if you throw it at a corner on the brakes, but you need to be mighty fast to stay on top of it and very committed on the throttle to stop it flicking back the other way. And the more you seek out that elusive moment of magic, the more the lack of torque frustrates and the faster you go until you find yourself in a vicious circle of cheek-puffing effort and clumsy provocation, all to no avail. I hate to say it but the BRZ feels like it needs more power or a wet surface to fulfil its obvious and tantalising potential.  Meanwhile the bloke in the Megane Trophy on the same road is up to his neck in the action, grinning like a fool and wondering how you can have more fun than he is right now. The simple answer is, at this price, you can't. And when you slow down and relax the Megane is simply a nicer place to be and feels more special despite its humble roots. Yep, oversteer-obsessed evo gives the nod to the front-drive Megane. Next month the 911 loses another group test, Meaden refuses some biscuits and Harry concedes that Zonda values are falling off a cliff…
Henry Catchpole drives the BRZ to the group test...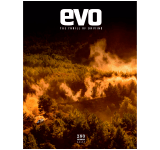 Subscribe to evo magazine
Subscribe today to have every issue of evo delivered straight to you. You'll SAVE 39% on the shop price, and get evo for its original cover price for a whole year!