Project Cars' early life wasn't exactly an easy ride. Multiple delays, early builds proving to be less than impressive and cancelled versions, all left us wondering if it would ever make it out of the studio.
But now, a year on, Project Cars is well and truly in its stride. A lot of the issues we had with the game when it went on sale at launch remain, but it now feels more finished and without quite the number of significants bugs which hampered things early on in its life cycle.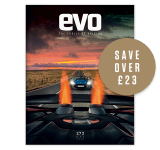 Subscribe to evo magazine
Subscribe today to have every issue of evo delivered straight to you. You'll SAVE 39% on the shop price, and get evo for its original cover price for a whole year!
You only need gaze at the patch notes released alongside updates for the game to get an idea of the massive amount of depth and work that has gone into it. Vintage tyres in Project Cars for example were reworked to allow better temperature increases, prevent severe flat spotting and localized overheating. Yes, it's that detailed.
In this Game of the Year Edition form, you have Project Cars in its most complete guise, on consoles at least. Fresh from playing an early build of Gran Turismo Sport, it was interesting to return to Project Cars once again. They're very different games, but GT Sport's competitive gaming ambitions can't be ignored, particularly given the fanatical following that Project Cars has.
>Read our Gran Turismo Sport preview
Project Cars GOTY edition comes with an extra 50 cars or so, putting the total up to 125. In a post-Forza 6 world, that's not many. It's also less than GT Sport will launch with.
What's there though is supremely detailed. The all-new Huayra BC looks and sounds fantastic, with incredible amounts of detail thrown into what is a hugely detailed and complex car in real life. There's also some really enjoyable car choices, including a BMW 2002 Turbo which has been created with what's clearly a huge amount of passion.
The more mainstream vehicles you see making an appearance in big budget titles aren't all there, which does restrict you somewhat if you fancy doing an all supercar race for example. But then that's not what Project Cars is about - this isn't a big budget title, it's a sim racer.
Starting from the top. Project Cars initially confronts you with a choice of career or solo play. Opting for career lets you choose from one of eight tiers to start at, ranging all the way from karts to LMP1. The ultimate aim being progression through each, with the ability to start a career practically at the highest level should you so choose.
>Read our Pagani Huayra BC review
Opting for entry level shifter karts will give you the most complete Project Cars experience, so we recommend that. Alternatively, you can opt for solo play and just explore the game in its entirety, creating your own races instead.
Career mode suffers from incredibly clunky menus, with a calendar based system for races. It never really makes it clear exactly what you are aiming for or entering into. Sadly those menus simply haven't been updated for the GOTY version of the game.
This clunky menu system unfortunately gets carried over into the car setup pages. This is a real shame, as the depth available in terms of tuning is vast, from boost pressure to brake bias, you can adjust everything you'd want to in order to get the best possible lap time.
The same customisation levels applies to the game's difficulty, which while initially set between beginner, intermediate and pro, can be fine tuned for every single aspect from AI to gear shifting.
Ultimately though, what really matters is how it plays and this is where Project Cars shines. The car list might be fairly short but what's there is fantastic. Each car has its own personality too, which is often missed in the likes of Gran Turismo, where some of the lower end stuff tends to blur into one handling-wise.
Something like a BMW 320 Turbo Gr.5 feels utterly raw and borderline out of control at times, but sounds fantastic and comes with the sort of handling challenges you'd expect from a 1970s racing classic.
Switch to a Audi R8 LMS Ultra and it's all about aero grip and hunting for lap times, but still enjoying the sounds of that incredible V10. But it doesn't always sound incredible unfortunately, with audio being fairly hit and miss, the McLaren P1 for example lacks some of the wastegate flutter of the real thing while the Pagani Zonda R totally nails the chaos of that V12.
>Read about the best racing games of all time
We did mention in our earlier preview of the game that the sense of speed was slightly off, causing issues with over or under braking. This now seems to have been fixed, as does the graphical fidelity of the game.
In fact, Project Cars is right up there with the best looking titles currently available on consoles. Weather in particular makes a huge change to the look and crucially, the feel, of the game. Rain transforms the handling to exactly what you'd expect, making grip a constant challenge and managing traction an issue throughout a race.
It's worth pointing out that Project Cars doesn't quite have the 'official' track list of some of the bigger titles, but everything important is there, including the Nurburgring.
In the end, it's the handling that shines through. Switch to the games' helmet cam mode and the perspective will shift and blur, with the driver's head following the racing line as you turn into a corner. Couple this with balance and feedback that you just don't get from many other titles, particularly when using a wheel and you've got a proper sim racer for consoles.
Crucially, the flexibility of difficulty also means all this can be paired back and the game turned into something you'd expect to see in the arcade, with a pick up and play feel that even Forza lacks.
What you're left with is a game that might lack some of the polish of the triple A racing titles, but more than makes up for it in depth and adaptability. It could do with a longer vehicles list and some of the bugs definitely detract from the overall experience, but ultimately if you're into racing, this is definitely a title worth investing in.