Suzuki Swift Sport
Our body kit has enhanced the appearance of the Swift. But where are all the others?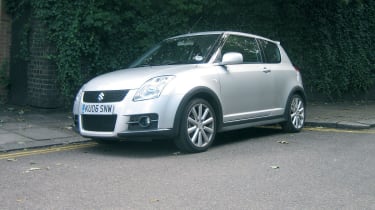 The Swift has had its date with a body kit and a tube of glue. Rather good it looks too, adding a smidge more smart chunkiness. I was mildly worried that the extended arches would make the alloys look small and lost in the wheel-wells, but it turns out I was getting my undercrackers in a spasm for nothing because the add-ons actually work really well. As indeed does the Bluetooth phone kit that was fitted at the same time as the exterior trimming. The little controller that sits below the iPod dock isn't as neat as a full factory-fit system, but since it performs the basic functions of making and receiving calls I'm not that fussed.
Obviously, if you've bought a Fiat Panda 100HP you could smugly ring me on that car's standard and built-in hands-free phone kit, but frankly if we're mithering about digital technology rather than driving, something's gone badly wrong. And having lived with the Swift for a while now I'm going to say categorically that, when it comes to the actual driving experience, I think the Suzuki is the more complete car. It rides better, it rolls less and it's easily as sparky and entertaining as the little Fiat. It's my current belief that if you can stump up the extra 1500 quid for the Swift, it's worth it. That's my hunch anyway. Pretty soon we'll have to get my car together with evo's Panda to decide for sure.
In the meantime, I'm happy that my Swift now has the smart rubbery arch extensions that make it more than a match for the Fiat's miniature hero looks and distinguish it from other Swift Sports at the same time. Not that I often see other Swift Sports as it turns out. A red one flashed across a roundabout in front of me the other day and I think that counts as only the second one I've seen on the road. Since Suzuki says this car has been quite a hit for them, where are they hiding? If you've got one, do get in touch.
Running Costs
| | |
| --- | --- |
| Date acquired | March 2007 |
| Total mileage | 5,544 |
| Costs this month | £699 (body kit), £289 (Bluetooth) |
| MPG this month | 30.2mpg |