Nissan enters Formula E for 2018-19
Nissan becomes the first Japanese manufacturer to enter the electric racing series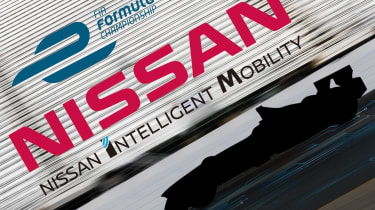 Nissan has announced it will take part in the 2018-19 Formula E season at the 2017 Tokyo motor show.
The Japanese firm presented its vision for electric mobility at the show, and confirmed that as part of this push it will become the first Japanese manufacturer to take part in the series.
It's the latest major manufacturer to announce a Formula E entry, following Jaguar and Audi – already competing in the latest season – as well BMW with its 2018-19 entry, and Mercedes-Benz and Porsche, both of whom will join a year after Nissan.
The firm is one of the leading electric vehicle manufacturers globally, having produced around 300,000 full battery-electric vehicles since the Nissan Leaf debuted in 2010 – with Leaf sales making up around 280,000 of that number.
The Formula E effort will also mark Nissan's return to international motorsport since its unsuccessful attempt at the World Endurance Championship with the troublesome Nismo GT-R front-wheel drive hybrid prototype.
Formula E may prove more successful, with a simpler rule package and a steady growth that has been responsible for attracting several major manufacturers so far. The 2018-19 season will be marked by a completely new, sci-fi style car design, and the requirement for the cars to complete a full race on a single charge.
'As the ultimate expression of the thrill of instant acceleration and agile handling that's at the heart of Nissan zero-emission driving, Nissan is going to electrify the Formula E championship,' said Daniele Schillaci, Nissan's executive vice president of global marketing and sales, in Tokyo.
Alejandro Agag, founder and CEO of the Formula E series, welcomed Nissan into the series, adding that Japan has become one of Formula E's biggest fan bases.
Click here to read more from the 2017 Tokyo motor show