Vauxhalls get thrashed through Ellesmere: video
Vauxhall celebrates Ellesmere's 5 millionth car by letting its most legendary employee thrash its classics
Vauxhall's Ellesmere Port factory has built its 5 millionth car this December. To celebrate, the British carmaker has produced a video of a legendary Vauxhall employee thrashing some of its most popular cars around the 50-year-old plant.
Opened in 1964, the plant's 1800-strong workforce is now capable of building a car every two minutes. It's set for expansion next year too as 300 new employees join as part of £140 million of investment from GM.
This alone is reason to celebrate, but it's the 'work' of a mysterious character called Pete that takes centre stage in this video. Known simply as 'Ellesmere Pete,' the Vauxhall employee is filmed flicking and chucking several generations of fast selling Vauxhalls around the production lines, all part of a supposed test-routine that he has been using since the '60s.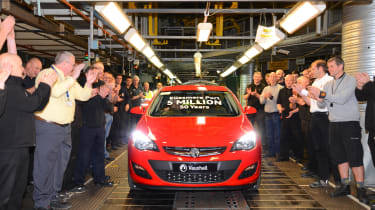 Whilst he seems to be having a great time skidding around after hours, we're not sure what balancing a new Astra on two wheels would do for its running in. Ellesmere Port's Plant Director, Stefan Fesser, was also concerned after his 2013 arrival, but is now supportive of Pete: 
'I wasn't convinced until I saw the breadth of his high-speed testing in the plant, and the detailed reports he generates. And you know what? After fifty years, he still does a fantastic job of validating the great quality that comes with every car we produce. Long may he continue.'
Is this a big joke or is Pete real? We don't have a clue. But watching a 1964 Viva slip its way around heavy machinery, and a 1984 Mk1 Astra GTE flash past robotics makes for great viewing. Other cars to feature are a '75 Firenze HP 'droopsnoot,' '80 Chevette HS2300, '93 Mk3 Astra GSi and of course the 2014 Astra 2-litre CDTi. 
The replacement Astra is due in 2015, and will go head to head with its archrival the 2015 Ford Focus. Ellesmere holds the title as the lead European manufacturing location for the new car, so Pete will have his work cut out to ensure it stands a chance of beating the popular Ford. Good luck Pete… 
What's your favourite Vauxhall from the past 50 years?